(Español abajo)

Did you know that 95% of breast cancers are curable if detected early?
This is the story of my mother, a fighter and an admirable woman who has recently been diagnosed with breast cancer. Fortunately, it is still in the first stage, but we urgently need money to stop the cancer and save her life.
▼ We found it in time! ▼
I'm Sherly, a 28-year-old Venezuelan who, due to the country's situation, decided to look for new opportunities in 2016. I currently live in Santiago, Chile. With much work and effort, I managed to bring my two brothers. Our mother visited us to meet her second grandson, but she had to go back to take care of my grandparents, so she is currently in Venezuela.
A couple of weeks ago, my mother began to feel discomfort in her right breast, so, per the recommendations of her doctor, a biopsy was performed. It was two weeks of anguish and unanswered questions while we waited for the results.
On the afternoon of November 21, we were to finally receive the results. It was a time of uncertainty. As the hours passed, we waited for my mother's call. Finally, we received the sad news that my mother has breast cancer.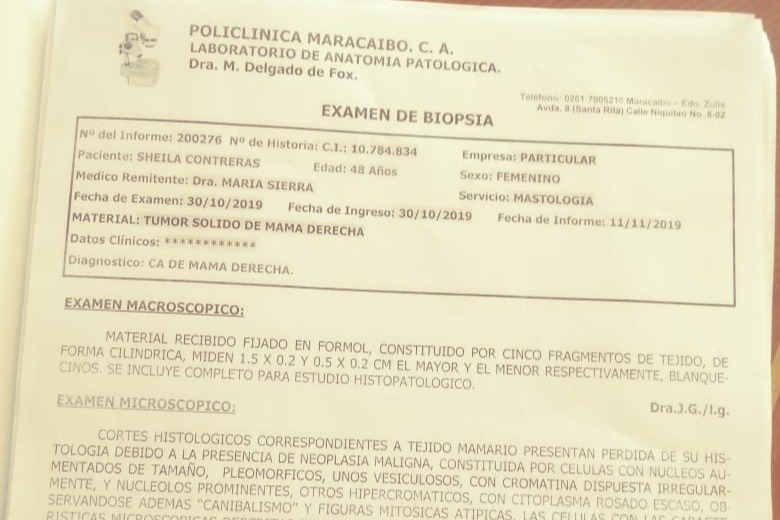 I wonder how unfair life is to my mother. She is an exemplary woman, a single mother since we were very young. She always took care of giving us the best she could, without anyone's support. She even worked went, knocking door to door to sell anything from cheese to clothes. She is an exceptional daughter and sister, a woman of noble heart.
And I keep asking myself: Why her?
Unfortunately, my brothers and I are going through a bad economic time due to the current situation in Chile. My brothers are unemployed and have had to sell food to survive. In addition, everyone has a baby to watch over. I have been covering the necessary expenses so far, but my salary barely exceeds the minimum amount for rent and food. Life in this country is very expensive.
I do not know if you have suffered closely this shadow called cancer, but the truth is that it is very painful and desperate. You will know how it feels, how truly frustrating it is to think life has a price. This is why today, with my heart in my hand, I dare to place this campaign to ask for your help. Yes, you who are reading this. Any contribution you can make will be very valuable to save our mother's life.
I believe that money is energy. If today you help us from your heart, I am sure that life later will greatly compensate you.
Thank you for getting this far. If you cannot contribute money, you can also support us by sharing this campaign so that it reaches more people.
Help us reach more people

Instagram
YOU CAN ALSO HELP BY
SENDING OUR PAYPAL ACCOUNT
DONATE WITH PAYPAL
* Mrs
* Follow us
* Share
* Supports
❤
------------------------------------------------------------------------------------------------------------------------------------------------------------------------------------------------------------------------------------------------------------------------------------------------
¿Sabías que el 95% de los cánceres de mamá son curables si se detectan un tiempo?

Este es el caso de mi madre, una mujer luchadora y admirable a quien recientemente le han detectado el cáncer de mamá. Por suerte aún se encuentra en grado 1, por lo que necesitamos dinero con urgencia para frenarlo y poder salvar su vida.
▼ ¡Estamos a tiempo! ▼




Soy Sherly, una venezolana de 28 años que, por la situación del país, decidí buscar nuevos horizontes en el 2016 y actualmente vivo en Santiago de Chile. Con mucho esfuerzo y trabajo logre traer a mis dos hermanos. Nuestra madre, nos visitó en una oportunidad para conocer a su segundo nieto pero tuvo que volver a cuidar a mis abuelos, por lo que actualmente se encuentra en Venezuela.

Hace un par de semanas, mi mamá comenzó a sentir molestias en su seno derecho, por lo que, según las recomendaciones de su doctora, se realizó una biopsia. Fueron dos semanas de angustia y preguntas sin respuesta.

La tarde del 21 de noviembre finalmente le entregará los resultados, fue un momento de incertidumbre ya que pasaban las horas y ella guardaba silencio. Finalmente consideró la triste noticia que se verá de cáncer.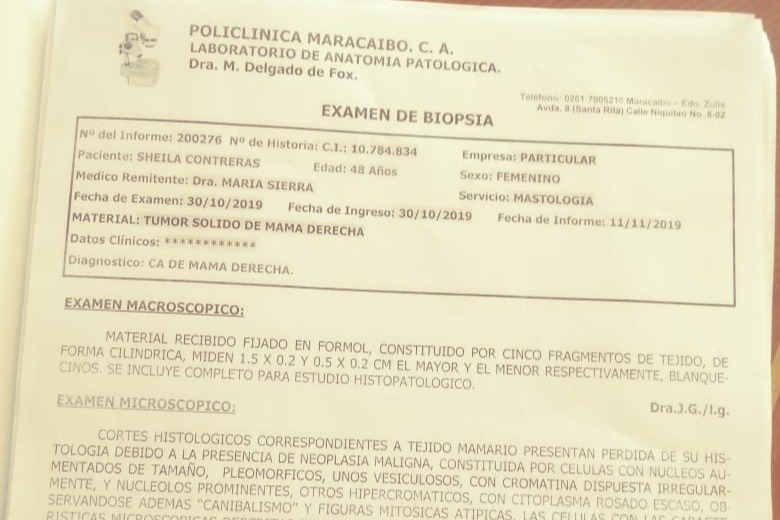 Me cuestiono lo injusta que es la vida, ella ha sido una mujer ejemplar, madre soltera desde que tenían muy pequeños y, aun así, siempre veló por darnos lo mejor que podía, sin apoyo de nadie, trabajando como comerciante y tocando puertas para vender desde quesos hasta ropa. Ha sido además una hija y hermana excepcional, definitivamente una mujer de noble corazón.

No dejo de preguntarme: ¿Por qué a ella?






Lamentablemente mis hermanos y yo estamos pasando por un mal momento económico debido a la situación actual de Chile, mis hermanos quedarán sin empleo y han tenido que salir a la calle a vender comida para poder sobrevivir. Además, cada uno tiene un bebé por quien velar. Yo he estado cubriendo los gastos necesarios hasta ahora, pero mi salario apenas supera el sueldo mínimo el cual se me va mayormente en arriendo y comida. La vida en este país es muy cara.

No sé si ha sufrido de cerca esta sombra llamada cáncer, pero la verdad es que resultó muy doloroso y desesperante; si lamentablemente lo que tuvimos cerca, sabrás lo que siente y lo verdaderamente frustrante que resultó pensar la vida tenga un precio. Es por esto que hoy, con el corazón en la mano, me atrevo a colocar esta campaña para solicitar tu ayuda; si, tú que estás leyendo esto, cualquier aporte que puedas realizar será muy valioso para salvar la vida de nuestra madre.

Pienso que el dinero es energía, si hoy desde tu corazón nos ayudas, estoy seguro que la vida más adelante te compensará grandemente.

Gracias por llegar hasta aquí. Te pido que, si no puedes contribuir con dinero, también puedes apoyarnos compartiendo esta campaña para que llegue a más personas.






¡Ayúdanos a llegar a más personas!




YOU CAN ALSO HELP BY
SENDING OUR PAYPAL ACCOUNT
DONATE WITH PAYPAL

* Dona
* Síguenos
* Comparte
* Apoya

❤

Please click the style of widget you'd like to install