Help me fund my Cervical Cancer Treament
US$590.00

raised of $5,000.00 goal goal
The campaign owner has stopped the page from accepting further donations. Please contact them if you'd still like to donate
Help this ongoing fundraising campaign by making a donation and spreading the word.
Campaign Story
Hello Everyone, I'm Baby, 54 years old, single mom and today knocking at your door like a real baby, very helpless and almost feeling hopeless with my current situation.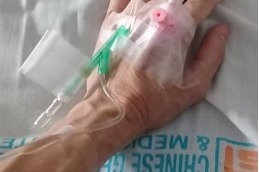 I was diagnosed with Cervical Cancer Stage 3B on 3rd September 2019 and at the same time suffering from Obstructive Uropathy. the last few months have been the hardest and worst few months of my life.

Doctors are unable to start any procedure for my chemotherapy, radiation, stent and Liver ultrasound and other required blood tests not until I have made any payment to the hospital first. It's so sad to say there are still lots of things I need to do however due to financial constraints I am unable to start my chemotherapy. . I have contacted all my friends and relatives but still it's not enough.


I am suffering from great deal of discomfort and pain throughout the months since May 2019, I worked in Ghana Africa as a nanny however due to my unforeseen illness, I needed to go back to the Philippines hoping that I would be able to get healed. After numerous hospital visits and examinations, having a BIOPSY procedure It was after this I was told it was Cervical Cancer Stage 3B, I have spent all the earnings for flight to go home and for the investigations now I have nothing.


At the moment, I need to do is get my latest Creatinine, Liver Ultrasound, Whole Abdomenal Scan which will cost around 11,000 pesos. After I get the results I will have the Radiation and Chemotherapy which will cost 83750pesos x two months will be equal to 167500 php for a start.


I absolutely hate feeling like I am begging but I do need Help :( :(


On top of that, when I had my preliminary laboratory taken, it was seen that I have Obstructive Uropathy and I needed to have stent before I can start the treatment. I also needed to have my kidney stones removed that was seen in my ultrasound.

The treatment in Manila is going to cost thousands and I don't have thousands, so if anyone could help I would be forever grateful and it would genuinely change the rest of my life.

I will need to have to Radiotherapy five times a week, Chemotherapy will be every Wednesday.

I would be so grateful for any help and any shares on my story!

The process up to this current point has taken months and has been the hardest thing to experience.


... I WANT TO LIVE. I want to continue to do the work I know I am put on the planet to create. With your support I will have the best chance at getting on top of all this. I have no plans on giving up anytime soon but the unfortunate part about trying to recover with must seek out to give myself the best chance at survival. I am creating this go fund me page to help me with my treatments.
If you want to donate, it will be better to send it directly to my BPI Account.
BPI España-UST branch
0159-1347-92
Baby Amparo Emocling
Thanks in advance.
No updates for this campaign just yet