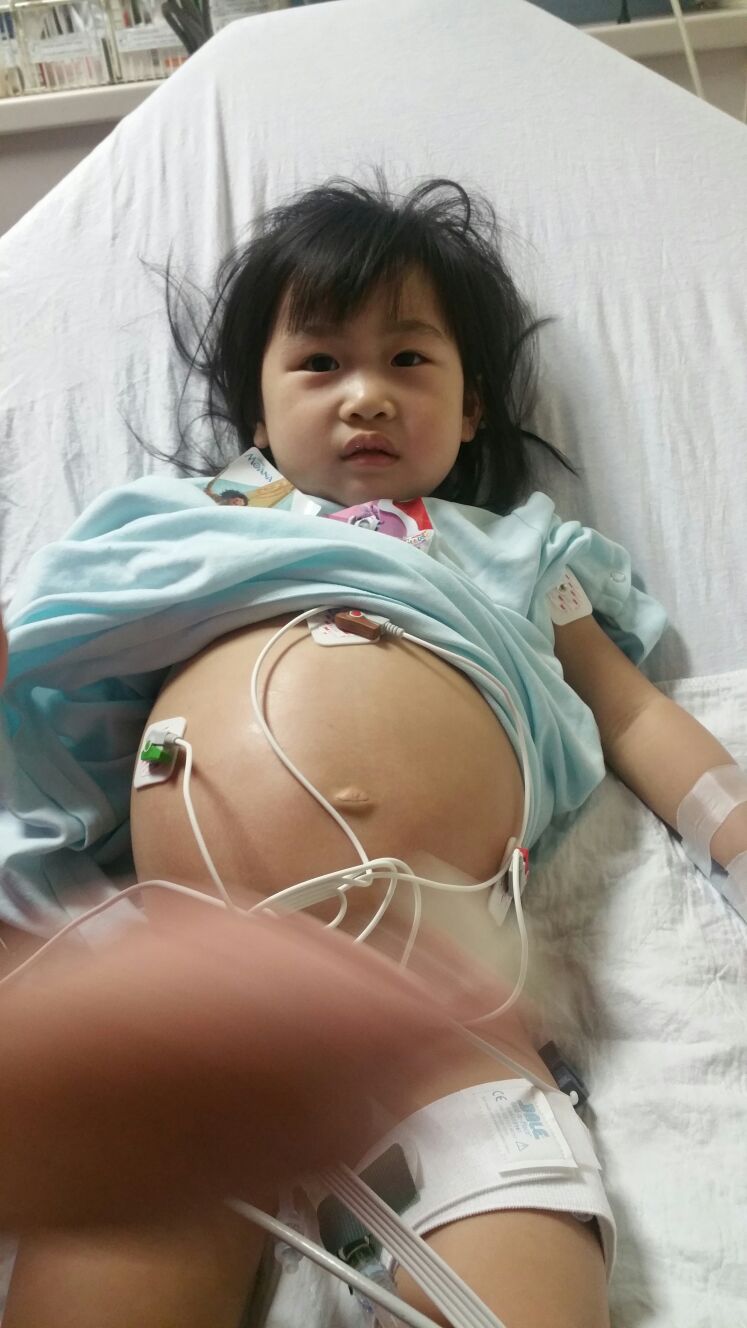 It is a nightmare for our family starting the month of March. Hailey stomach have been increased dramatically and hard. We visited the PCP 3 times within a week. Our PCP keep saying that she had gas in her stomach.
She had never shown any signs of discomfort or pain; she's been a happy child playing, laughing and running. Suddenly, She had no appetite and sleep only. At last,We decided to go straight to the ER. X-ray, Ultrasound, Biopsy and Sonogram have been tested. Dr said that she have a tumor (cancer ) in her stomach, kidney and bone marrow.
It's devastating news that no parents want to hear. Especially for 2 1/2 yrs old girl. The most heartbreaking news is that we are in the hospital (ER) for 2 days and Dr told us in the morning said her kidney without any function and her body are puffy. She needed to dialysis at the same day. Hailey have to transfer to another hospital to received the treatment. At the same time we heard the Dr said she had Burkitt's Lymphoma . No symptoms from family history and it is faster growing , During the time we wait for ambulance, It is very sad as a parent that we can not do anything at all to help her.
Once we transfer to the other hospital, Hailey go straight to the ICU and surgery immediately for her kidney. We spend 2 weeks at the ICU. On 28 of March, She started her 1st chemotherapy .
According to Oncology Dr said, Hailey will have to undergo 12 -15 months of chemo and spend overnight at the hospital from time to time to complete the treatment.
I am taking a long period unpaid leave to take caring our daughter with my wife 24/7. I could only work very limited hours in the near future,
Because of unforeseeable long way
of cancer treatment for my little one. It is really hard for me to leave my only child,When I know she is very sick and try to stay with her more often.
Treating Hailey's condition and helping her recover will require
significant shifts in my employments, Such as, Transportation, housing, and lifestyle, Also the food we eat right now has to benefit to Hailey condition and we will try and safe therapy to help her fight the cancer
and reduce the chemo side effect.
All fund that we raised will be used to help our family face the financial hardships as well as all the unanticipated cost that have come from the cancer treatment for Hailey. Every little help can change
a lot.
At last, All prayer will be the most important thing for Hailey to battle
the cancer.
Please click the style of widget you'd like to install