'Less is More' is a new line of timeless 'en vogue' designs that are ready to be made, but Haptic Path needs your help to take the next step!

Our company strives to make clothes that are kind to our planet and provide the quality, comfort and freedom our bodies deserve. Our products are made to last a long time and to look great in many different functions so that they become like a home to your body. We believe that the mindset of sustainability and commitment to ethical trade will help to redirect the world toward a more balanced and fruitful path. Haptic Path offers you an effortless choice in wardrobe so you can shop carefree - what can be a better way to start a sustainable living than clothing yourself in it every day.

Help us to spread the word about the campaign - each donation comes with the reward item of your choice! Don't miss this opportunity to get a unique garment soon to become your favorite (breathable organic materials, self-thermoregulating, protecting from UV).
About us. Haptic Path
Haptic Path is a dynamic young company making leaps and bounds in the world of slow fashion. In less than a year after launching, the brand was invited to the Berlin Ethical Fashion Show and Nina Skibnevsky's work has been featured in "Sheeba Magazine", "Switchers" and exhibited around Moscow and Tel-Aviv at community events.
Less is More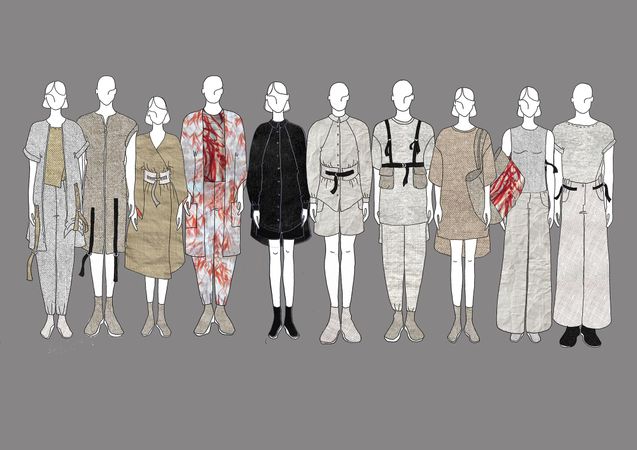 'Less is More'
is a collaboration project of two Israeli designers Nina Skibnevsky and Daria Burov, based on
Zen concepts of simplicity
to transmit the ideas of
freedom
and
essence of living.
Our garments are designed to save time and reduce stress in this fast life jammed with targets, expectations and deadlines. "Less is more" – is a unisex capsule collection with complimentary items, inviting couples to use it together and to share energy with loved ones.


Our sustainable fabrics

Haptic Path style begins with the impact of sensation a garment gives to your body. For 'Less is More' summer collection we choose 100% natural fabrics (hemp, linen, organic cotton), which are breathable and feel pleasant to the body even in the hottest weather. We use hemp, a casual yet sophisticated fiber that is not only sustainably produced, but is durable and possesses wonderful versatile characteristics.
Hemp is a 100% ecologically harvested and plant based fiber, hypoallergenic, highly UV resistant and thermal regulatory material. Accompanied with linen and organic cotton blends, we ensure that every Haptic Path garment can one day biodegrade back to the earth.
The clothes we produce live a long (and often happy) life. If you are as passionate about natural materials, body comfort and concerned about the future of the planet as we are, then Haptic Path garments are the right choice for you.
Budget Overview


15% of the goal
40% of the goal
45% of the goal
The crowdfunding platform fee,
the money transfer fee,
and the work of the PR team
Manufacturing rewards
[The more people will wear Haptic Path's sustainable and long-lasting shirts, the happier it will make us!]
The production of the 'Less is More' collection!!!
Reaching the goal of 15000$ will allow us to buy fabrics and to start offering more items of the new collection for custom orders.
Reaching the goal of 21000$ will allow us to produce basic items of the collection and to offer other items as custom made.
Reaching the goal of 31000$ will allow us to produce a full collection 'Less is More', including the key items eco-printed with eucalyptus leaves growing in Israel.
A note from Nina

Haptic; A predilection for the sense of touch
I'm Nina, and my journey to become a fashion designer came from a lifelong fascination with the haptic experience. I was born and raised in Moscow, got a degree in Environmental Psychology studies there as well. Later on I traveled the world for several years with my daughter, met wonderful people - a journey when my interests took shape and skills developed further. Throughout all this time, my fingers always sought tactile engagement, particularly with the natural world. Even now nothing gives me more pleasure than exploring temperature, density and texture through touch.
A while ago I decided to settle down in Israel, to combine my life-experience and talents to create Haptic Path and to use this sense of touch as the base inspiration for my work. My designs come from the fabric, not the other way around.

This year I am not able to travel, but my clothes do!
I believe that many people around the Globe can benefit and enjoy wearing hemp clothes and this campaign is a way for them to finally meet each other.

Did you choose a t-shirt for yourself? Send the link with the campaign to a friend? Or maybe even did both? Words cannot express how grateful I am and how much I appreciate the effort. Together we can make the world a better place!


REWARDS

1) Hemp and Organic Cotton blended t-shirts!
Help us to expand our vision of eco-friendly clothes production by purchasing a Haptic Path unique T-shirt. The T-shirts are made to feel like home to your body and our GOTS certified fabric blend will live in your closet for many years to come.
We offer several types of garments to suit diverse and beautiful bodies:
Solid Tee: black/off white, male/female body type, round/v-neck
Solid long-sleeve: black/off white, unisex
2) Hemp pants for yoga and life (or pants + t-shirt)

2) Purchasing a GIFT CARD to order items from existing or new collections in Haptic Path shop.
3) You can choose as well an experience based reward! A professional stylist Daria Burov will engage in helping to mix, match and organize your clothing, personalizing your dressing style
CLICK REWARDS and choose the best one!



Purchasing physical rewards and shipping

Your e-mail and shipping details are saved at the checkout.

T-SHIRTS

We will send you an email to see your preferences about size-colour-design.


Shipping fees depend on your location and the weight of the item. Standard shipping price for 1-2 items varies from 15 to 20 US $, and we will get in touch with you later on after the purchase to collect the shipping fee.
BESTSELLER OF 2019: PANTS FOR YOGA and LIFE

UNISEX YOGA PANTS: 100$

YOGA PANTS + T-SHIRT: 130$
2 pairs of UNISEX YOGA PANTS: 185$
You can choose:
1. size
2. colour [black/or secret colour - will be announced in the end of the campaign]
3. colour of a drow-string
4. possible rubber in the hem
[preferred size-colour-design and the shipping fee will be confirmed in a follow up e-mail]
You can choose:
1. size
2. colour [black/or secret colour - will be announced in the end of the campaign]
3. colour of a drow-string
4. possible rubber in the hem
[preferred size-colour-design and the shipping fee will be confirmed in a follow up e-mail]
We will make sure our items are sent to you in the most eco-friendly way possible!
Please click the style of widget you'd like to install