My name is Adeniyi, I'm 28 years old, from Nigeria.

I am one of the many Africans who have to go through rigours to get proper education. Since my secondary School education in 2007, I had to engage myself doing some menial jobs so I can earn a living, I was incapacitated (in terms of finance) to join a conventional university and further my education, later in 2012 with the help of family and friends, I was able to start my academic career pursuit in Human Resource Management by joining a professional association from the United Kingdom called the Association of Business Executives, UK.

This sounds like an angelic solution for me due to reasons that the professional pathway allows me to study and work alongside and more importantly I can fast track by converting my professional qualifications to Academic with more that 350 Universities worldwide

It was a very tough ordeal for me as I had not enough fund to get professional tutoring locally, so I can know what to expect and pass the professional exams, I had to study tight on my own to write and pass my exams.

By the end of 2013, I had passed 9 papers of the QCF level 5 Higher Diploma from the Association of Business Executives, (ABEUK) where i was admitted in to the professional body, as an Associate Member- AMABE and my level 5 diploma certification was awarded.

Receiving my diplomas flown down from the UK to Nigeria gave me lots of resounding hope that there's light at the end of my tunnel.

So, i made up my mind to put up with level 6 Graduate diploma, Proceeding to level 6 Graduate diploma means more funds and commitment for me. Come 2014, I enrolled for the first 4 papers out of 6, that i needed to write to attain Level 6 Graduate Diploma. By the end of 2016, I had attained my level 6 Graduate Diploma in Human Resource Management.



Since I now have some experience and certification, I launched out on job hunt, but it was hard to get a good job, employers have a feel that my professional qualifications is just professional and cannot be validated as academic, Even when I tried to use the QCF framework to convince them that my attainment is as good as with someone who's had a Bachelor's degree, it is just not working- I need to top up my professional with academic qualifications, like either a Bachelor's Degree or Masters degree.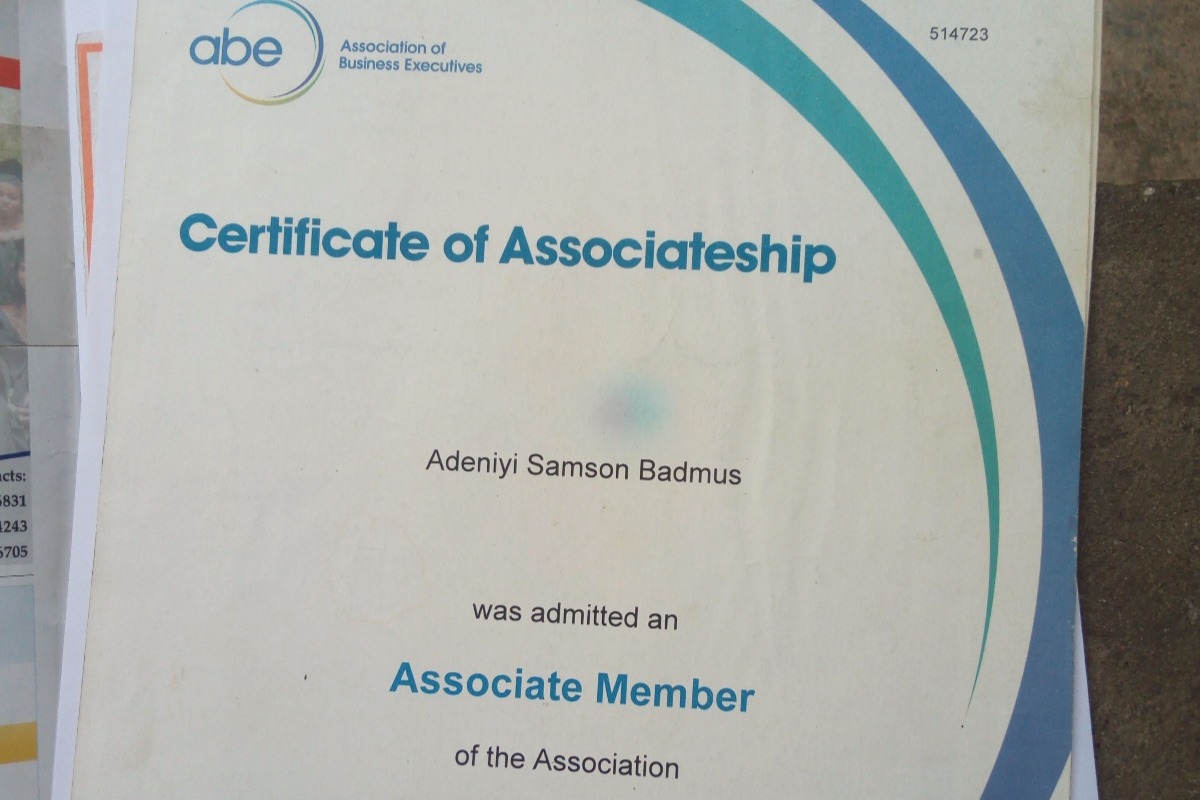 With ABEUK, I can progress to any of hundreds of universities in the UK like University of Hertfordshire, Sunderland, Leeds Metropolitan, Anglia Ruskin and many others across the globe.

With my professional experience and qualifications I can get an accredited master's degree in about one year.

Since 2017, I have been scouring the pages of the internet to find something like a scholarship that will suit my career so I can get a degree, but I found nothing suitable. By the end of 2019, I saw an institution online called UNICAF , that is helping Africans to get academic degrees in Africa at a very affordable rate. They have agreement with University of South Wales to deliver Degree qualifications to suitable candidates from Africa at an affordable rate.


I decided to apply to Study with South Wales University through them and take advantage of the 60% partial scholarship. I was offered a place to study Master's degree in Business Psychology, but later I got to know I had to pay N1.8 million (£4000/$5000) to fit into the scholarship offer. They said I could pay monthly but my earnings were barely up to, by 2018 the tuition fee had already gone up to around £5000.



I went further to learn Web design, start blogging in late 2017. I have heard that content websites can be sold at a wholesome fee online for money, then I started www.graphisdesigns.com , took up the Google digital certification



so I can get a hold of how to do things right, few months ago I decided sell the web to see how that can cater for my career funding, but to my astonishment, the best bidding I got for a 10 months old websites was way less than $500,


-------------------

I have pursued this career for 11 good years of my youth, had it been I had help, I would become one of the youngest professors in Africa.

May be you're thinking why don't I go to one of the universities in Nigeria to take up a part time studies? While that is a good question, the fact is most Nigerian universities that offers Distance learning like University of Ibadan, University of Lagos, and Obafemi Awolowo University, will not accept me as a matured student, even when the National University Commission (NUC) accredits ABE, UK courses in Nigeria and allows students with ABE qualifications to be officially recognised in Nigeria.

All of those universities run their Bachelors degree for 5 or 6 six years and Masters degree for 2 years, meaning that I'll have to give away another 8 years of my career if I'm to have an academic degree from a Nigerian University, which is what I'm not willing to do, I'll rather be an entrepreneur for 2 more years to be able to afford pursuing my degrees internationally than go through that excessive waste of precious years.

I have a dream to become one of the youngest Professors in Africa and use my prowess to affect my generation, had I got helped, I would have almost achieved my dreams, I havn't given up at 28, with your help, I can get my masters degree in the next year and assuredly I will become a hunted, talented professional in the job market. I will certainly get job opportunities that can pay me at least N5,000,000 ($14,000) annually which will be enough for me to pursue my Doctorate degree and cater for my family.

I have a vision to start one of the best cost effective, yet qualitative ICT academy in Lagos,Nigeria, I have started in a very small way, since I gained my web development and digital marketing skills, I have successfully trained not less than 150 people who have learnt how to leverage the growing internet and technological penetrations in Nigeria to start and grow a business online.

I don't earn a lot of money doing this, that's why many come to me in the first place, but I enjoy it more helping people to achieve their goals.

I will be adding project management and Human resource management to courses I offer seeing that there are many people who wants to get certified in these fields, it is very expensive to get ICT and professional education in Nigeria and a good number just can't afford it.

I also run a YouTube channel- WellBorn TV where I document countries of Africa, I started the channel way back in 2016, but the lack of equipment and funding (which i didnt allow to stop me) have made it a very discouraging ordeal.

Given your help and support I'll be able to come back to this platform January 2020 with my graduation photoshoot to say a big thank you.



To connect me on social media:
Facebook.com/adeptniyi
Instagram.com/adeptniyi
Twitter.com/adeptniyi
Plus.google.com/+adeniyibadmus
LinkedIn.com/wellborn
Quora.com/adeniyibadmus

Thanks,

Adeniyi Badmus
Please click the style of widget you'd like to install