(10/12) Some Pictures of the New Babies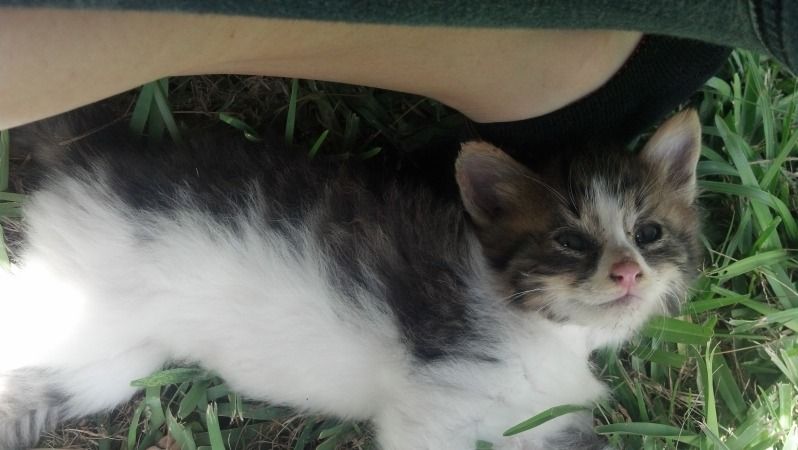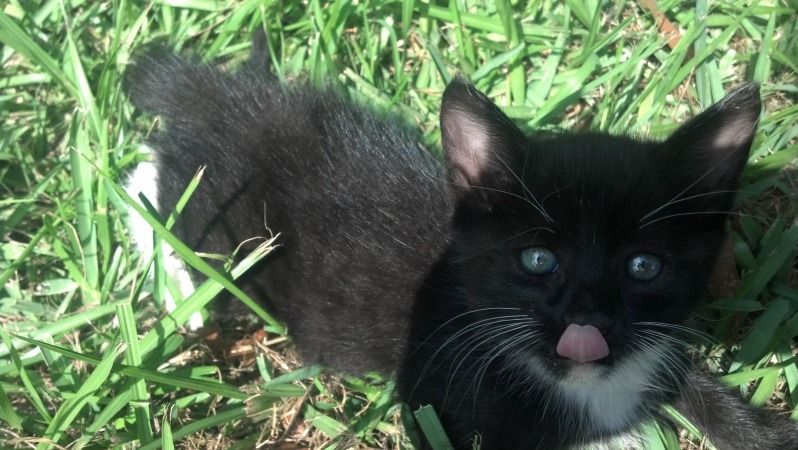 (10/01) Please see Updates.
(09/24) Got Caine in today! Proof will be provided in the updates tab tomorrow.
(09.20) Boots has been neutered and vaccinated! See the updates tab for proof.
(09/19) I've added links to proof for Moo Kitty and Salem in the updates tab.
UPDATE (09/18) Moo Kitty and Salem have been spayed and vaccinated!
UPDATE: (09/14) Hello everyone! All updates will now be posted above under the UPDATES tab. I didn't realize it was there before! :]
UPDATE: (09/13) 8 more dollars! Then we can get our first kitty taken care of :] I plan to get Caine taken in first since he's older than the other kitties. Also we have decided to keep Tiny so all funds received will now go towards the other ferals. :]
Our neighborhood in Lafayette, Louisiana is overrun with Feral cats, but these creatures aren't just wild animals, they are someone's pets that were forgotten and neglected.

My boyfriend and I have taken it upon ourselves to feed, and care for these cats. Many of them have moved into our backyard, and the most recent litter is in the process of being tamed and adoptable.
We already have a house cat, so as much as we like the wild kitties it would be unsafe to let them into the house and i have already taken in one of the feral kittens that i'm working on taming.
We desperately need to get these cats fixed and vaccinated ASAP to prevent future litters, and for us to be able to devote our attention to the one's that are already here, but we need finacial help in doing so. 
We have about 10 cats that come to our backyard everyday for food, and I've managed to win the affection of a few of them!
Our local Feral Cat Rescue can provide the vaccinations and Spay/Nueter at $40.00 a cat.
If you're an animal lover, or a proprieter of healthy living please find it in your heart to donate any amount to our cause.
If you wish to 'Sponsor' a single cat i will provide you with photos when I can.
Here are a list of the cats and a short description, and photos when i have them.
Mama Kitty: A very friendly stray. She is the mother of the most recent litter (that we know about) hence her name! She had helped us immensely in taming her kittens.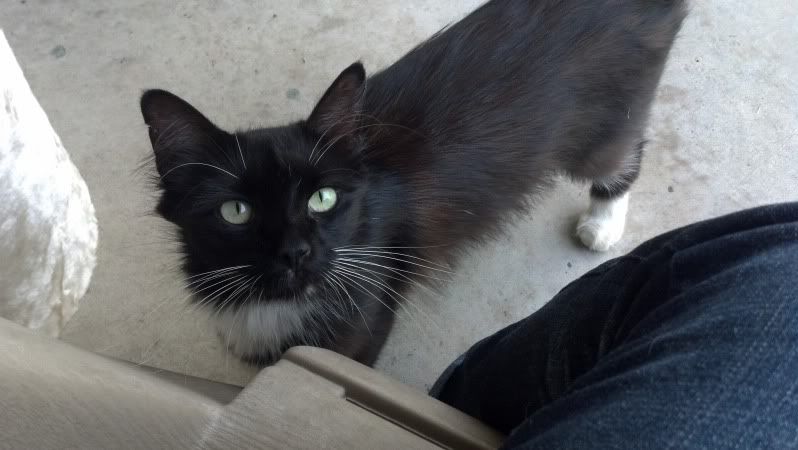 ***Max: The neighborhood top-tom cat. He is actually quite friendly as well but has a huge ego. He was graciously nuetred by our neighbor, but this doesn't stop him from chasing off all the other toms. We are pretty sure he is the father of Mama Kitty's, Izzy's and Moo Kitty's most recent litters. He is white with grey striped patches, a pink nose and green eyes although one of his eyes was recently lost (probably due to a fight).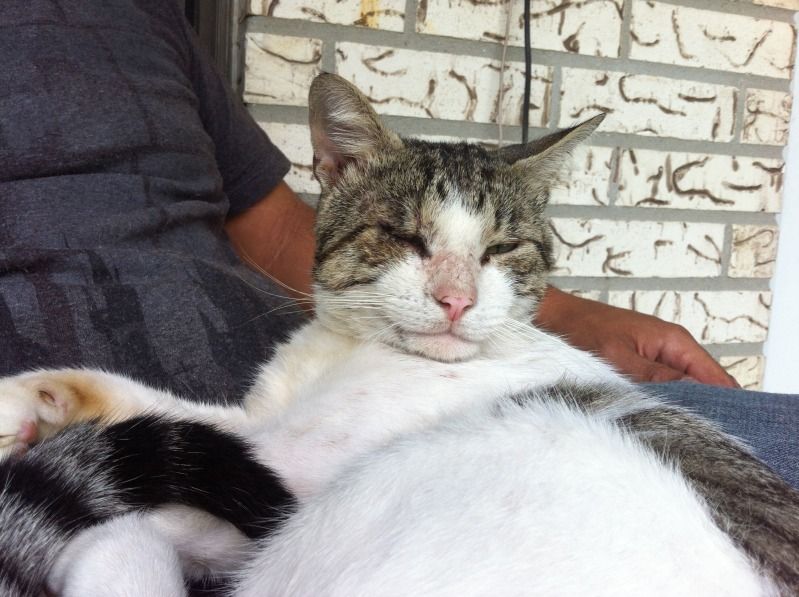 Izzy: Mama Kittiy's daughter. She recently had a litter that we do not know the location of. We tried to find them, but had no luck. She is grey striped kitty with a white belly, socks, and green eyes. She is skittish but will approach me when offered treats and sometimes let me pet her. She could probably be tamed in the future.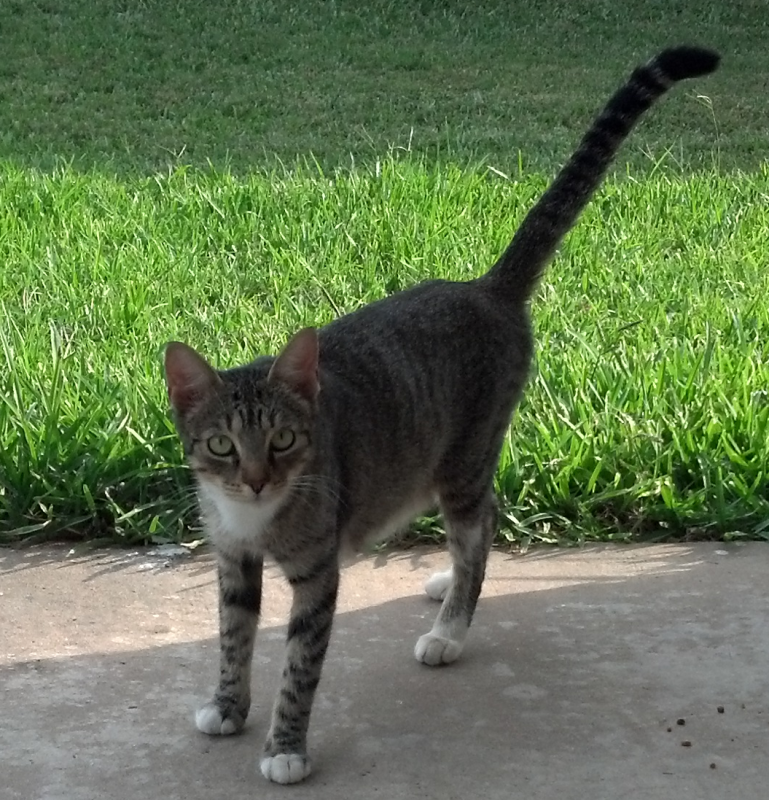 ***Boots:(Boots has been neutered! Thank you to everyone who has donated!) Mama Kitty's son. He was run off by Max, but we still see him from time to time. He will be a priority to catch and get fixed since Max is sterile.
***Caine: (Caine has been neutered!Thank you to everyone who has donated!) A young boy who hangs out in the backyard with Mama Kitty and the kittens. Mama Kitty seems to have adopted him, but we are pretty sure he is from Izzy's first litter. He isn't very friendly and likes to hiss at me, but will stick around for a tasty treat. He is black and white with a black nose and green eyes. He will need to be nuetered ASAP since he will be sexually mature soon.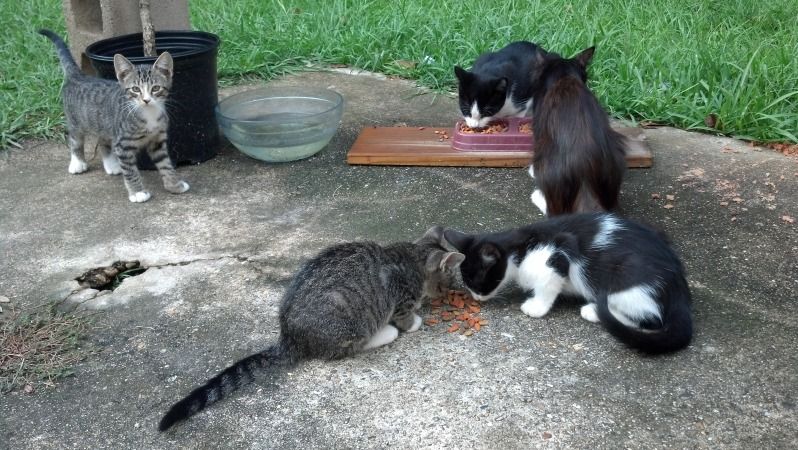 Wiki: One of Mama Kitty's most recent kittens. She is a spunky little kitty and my personal favorite. She will be the first one to come up when i call them for food and will gladly come into my lap to play with a toy. She will most likely be able to be fully tamed soon. I'm working on her letting me pick her up which has been pretty successful. She will even run into the house when i open the door.
Checkers: One of Mama Kitty's most recent kittens. He is not as brave as Wiki but will warm up after I get down to his level. He likes to play with the toy and will take kitty treats from my hand.
Kenny: One of Mama Kitty's most recent kittens. He is very shy and skittish. He had a traumatic experience several weeks ago where he crawled into the exhaust vent for our dryer. Luckily, we heard him in there and managed to get him out, but I think this has made him very nervous. He will come up to me when i have treats, or to play with the toy but doesn't really like to be touched. He will need a lot of Kitty-therapy in order to be adoptable.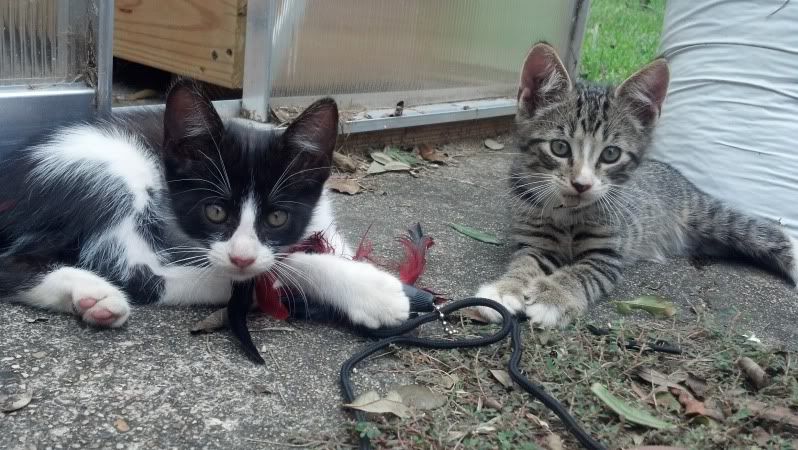 *** Tiny: (We have decieded to keep Tiny, all funds will go towards the other kitties)  A tiny kitten that showed up into the backyard one day. Our guess was she was lost from her mother and decided Mama Kitty would make a good surroget. Mama Kitty didn't quite agree with this, and would bat at her when she tried to nurse. This made me concerned for the kitten's health and i managed to catch her and bring her in. As of today 09/10/12 I have had her for one week and she has already made a tremendous turn around. She is affectionate towards me and slowly warming up to other people. We had to bring her to the vet and discovered she had 3 different parasites which I have been giving her medication for. She will be ready to adopt out in 3 weeks when the medication period is over. Don't worry, she is seperated from our other house cat so the parasites will not be passed on!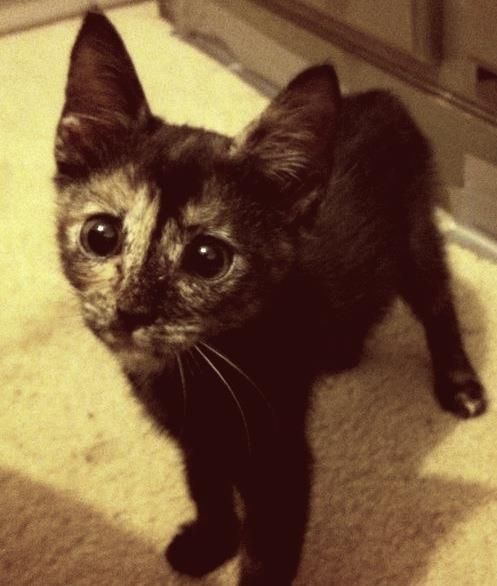 *** Moo Kitty: (Moo Kitty has been spayed! Thank you to everyone who has donated!) A black and white female (with cow spots!) that comes around often in search of food. She is very skittish and will hiss and run away from people. She recently had a litter that we do not know the location of, however we suspect Tiny is one of her kittens.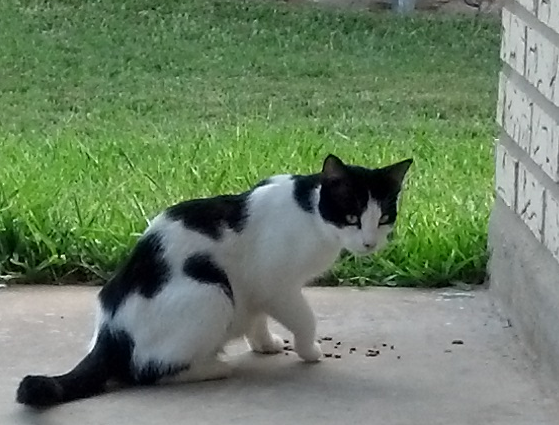 *** Salem: ( Salem has been spayed! Thank you to everyone who has donated!) An all black kitty that I think is Mama Kitty's sister. She doesn't come around often, but when she does she meows at me for food. She won't get very close but she seems brave enough.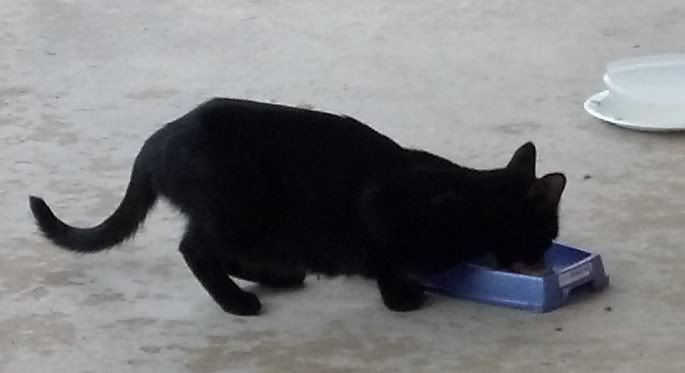 As we are able to afford to get these cats vaccinated and fixed I will update with new descriptions!
Please help us help these kitties and prevent future cats from being born into the wild with no secure future.
Please click the style of widget you'd like to install