Before I start talking about my project. I want to tell you a little about myself.
I am 27 years old. I live in Tbilisi, Georgia and work as consultant at a company which sells doors, quartz, floors, etc. My salary is about $200-$350 in a month. It is an average salary here. And of course I have big ambitions. I want buy a car, have my own apartment, travel in the world and so on. As you see, with this salary it will be a little hard to make it all. Of course I have some business idea about how to start earning a good amount of money. At least try, but all ideas need good amount of money except forex.
In an ideal case, forex needs quite a lot of money in order to start normal trading, but there is still a chance with a little amount to accrue a big capital. That is why I decided to get the amount here. I can make $400 - $600 a month with the initial amount of $1000. In a few months, it can reach up to $4000 which gives me the opportunity to make forex as a primary source of income and abandon my daily job. Obviously there is no guarantee of not losing the initial $1000 in a month or two. However, I have been observing and trading forex for years and I have my own trading system which minimizes the risks.

Forex

Rather than digging into the deep details of Forex which can take us on a long route of elaborate explanations, we will pay attention to its key parts.
The foreign exchange market or simply Forex is a global decentralized market for trading foreign currency pairs at a real price determined by the activities of buying and selling. It is regarded as the largest market in terms of volume traded per day totaling up to 4 trillion US dollars.
The main idea of trading currency on Forex is to make profit based on the price difference.
The first screenshot depicts the GBPUSD (British Pound - US Dollar) pair in 7th of July 2017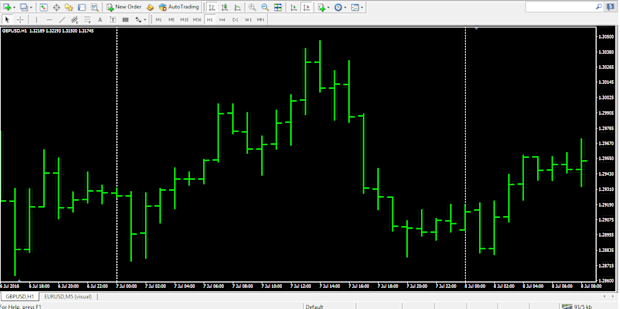 The second screenshot shows the buy price of 1.29447 in July 7th, 2016 at 6 am. Suppose we buy 1 standard lot size (which is equivalent of $100 000) of GBP/USD at this price. So we pay £100 000 x 1.29447 = $129 447 (meaning we bought £100 000 for $129 447). Our goal is to sell it at a higher price to make a profit on the price difference.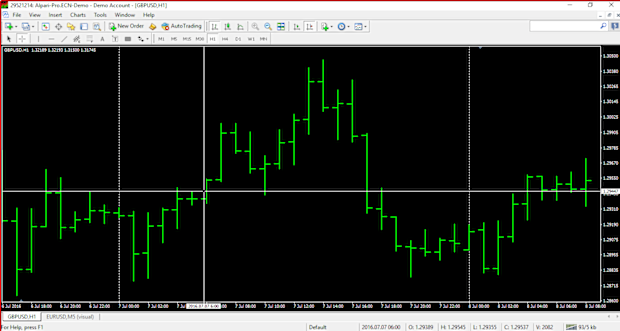 The third screenshot shows the Buy position closed (meaning selling the British Pound we bought) in 7th of July 2016 for a price of 1.30244 at 1 pm. So by selling £100 000 for 1.30244 we obtain £100 000 x 1.30244 = $130 244. The profit we made is $130 244 - $129 447 = $797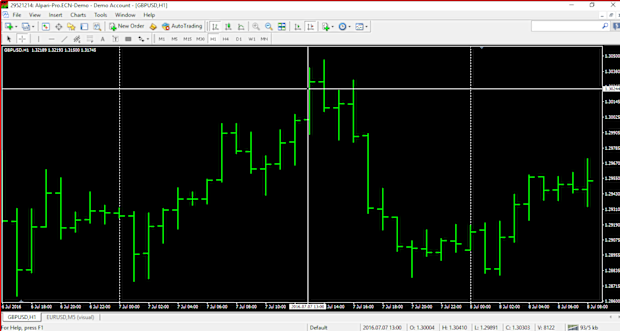 In the above example we showed the successful scenario when we bought at a low price and sold at high. If instead of buying we sold and the price went up, we would lose the price difference and the calculations would be the exact opposite. So in the Forex market, the key to success is to make a correct prediction and enter the market at a correct price.



Forex Expert Adviser

The Expert Advisor (or EA) is the automated trading robot which runs on a trading terminal and has a trading system logic built in. It trades automatically based on the prebuilt-in criteria. The main advantage of the EA over manual trading is that it executes the trades much quicker than a person can do. And in addition it excludes the emotional factors of a human trader which can significantly affect the results. There are tons of EAs online. One can find some of them even for free or in a price range of $3 to $10 million.
I cannot disclose every deep detail of the EA due to the confidentiality policy. However I can explain the system from a high level overview. It does not trade every day. It opens maximum 3 orders (opens positions 3 times) on a trading day. It has proved statistically that over a long period, (10 years of backtest results) most of the days end profitable. But if the trading sequence do not succeed ending up in a loss, the EA switches to the rescue mode which means that the very next series of orders will take care of recovery. In the following video record, I am displaying a backtester running on years 2010-2011.System contains many parameters few of which are confidential and censured accordingly.
The video shows 1 year backtest run on visual mode to help create an impression about how it trades automatically

The following video record demonstrates the backtesting of 10 years period on EUR/USD. The tester would take us very long time to run on visual graph mode. Instead it runs without visual displaying only the balance curve and results table.

As shown on the below screenshot, the balance curve increases consistently over 10 years. The red dots indicate the losing days after which the rescue mode kicks in which recovers the previous loss and makes a profit amount to catch up with the plan.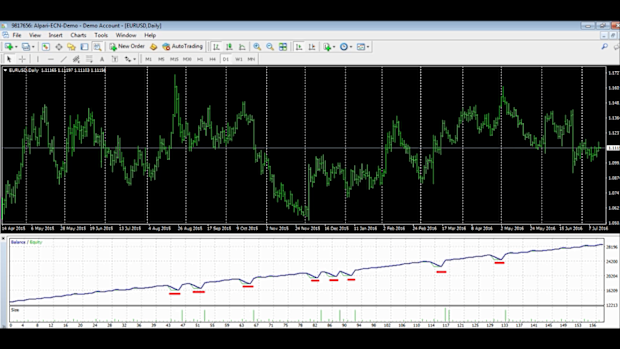 According to the statistics, there are 158 orders made out of which only 24 (8 trades) are losing and 134 making profit.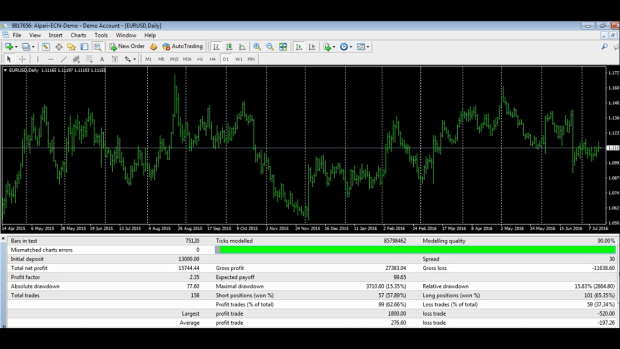 USD/CHF, period 2010-2016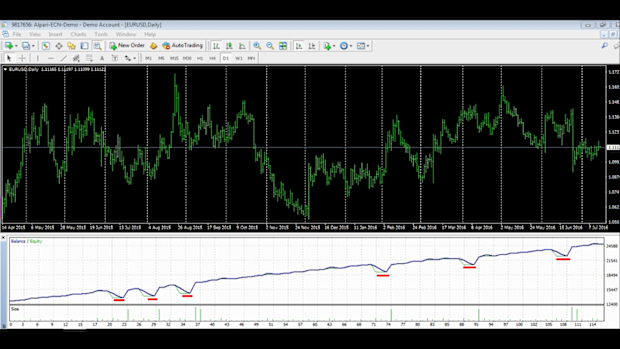 There are 115 orders, 24 losing (7 trades), 91 profitable over 10 years increasing consistently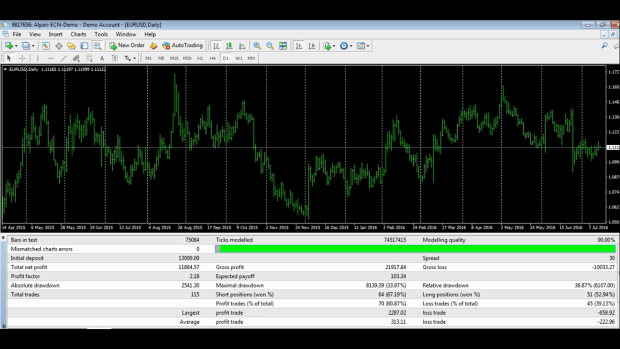 USDCAD, period 2010-2016

There are 88 orders, 12 (4 trades) losing, 76 profitable, balance increasing consistently

Please click the style of widget you'd like to install