On a day meant for love, redemption and renewal, a peaceful Easter Sunday morning was shattered by a series of eight horrific suicide bombings in churches and leading hotels in Sri Lanka's capital of Colombo and two other cities, Negombo (North of Colombo located on the North Western coastline) and Batticaloa (East of Colombo located on the Eastern coastline).

The sites targeted are as follows:

CHURCHES

1. St. Anthony's Shrine, Kochikade, Colombo.

2. St. Sebastian's Church, Negombo.

3. Zion Church, Batticaloa
HOTELS

1. Shangri-La Hotel, Colombo

2. The Kingsbury Hotel, Colombo

3. Cinnamon Grand Hotel, Colombo
There were also two other bombings:

1. Dehiwela (a suburb south of Colombo)

2. Dematagoda (a residential area in Colombo city, the blast claimed the lives of three brave policemen)
The death toll from last Sunday's bombings has topped 350+ innocent lives and continues to climb, with the injured count at 521 people across the country.

As of 23rd April, ISIS has claimed responsibility for the bombings, apparently in retaliation for the Christchurch mosque massacres last month. Further, these atrocities were aimed at dividing a country that is famed for its rich ethnic diversity.

Sri Lanka, an idyllic island nation in the Indian Ocean, was just emerging from a brutal civil war which lasted nearly three decades, and ended in 2009. Teeming with natural resources, rich culture & heritage, and home to truly beautiful, hospitable people, Sri Lanka was a tourism hotspot and poised to becoming the next economic hub of Asia.
The suicide bombers and the carnage was indiscriminate: children, women, elderly all paid the ultimate sacrifice or are presently undergoing treatment, several clinging on to their lives.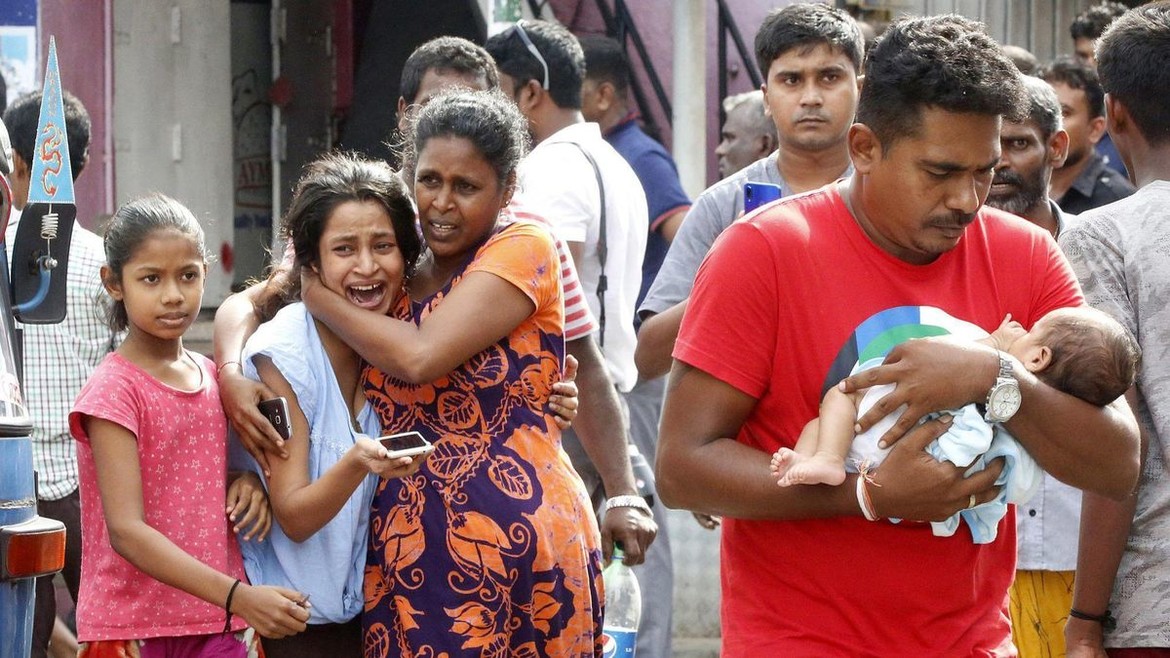 Image Courtesy: Los Angeles Times

The injured are being treated at the following hospitals:
1. Colombo National Hospital
2. District General Hospital Negombo
3. Colombo North Teaching Hospital (Ragama Hospital)
4. Colombo South Teaching Hospital (Kalubowila Hospital)
5. Batticaloa Teaching Hospital

HOW WE PLAN TO HELP

100% of the proceeds of this initiative will go directly to the beneficiaries.

We will provide periodical reporting of the situation and the ongoing assistance that will be carried out by ourselves, and all affiliated organisations that we plan on working with. All relevant reporting material (receipts, bills, statements etc) will be showcased and reported back to ensure that utmost transparency is maintained at all times.

1. Urgent Care for the Injured

At this point, the injured victims are in need of basic necessities such as clothing, medication, food, hygiene supplies etc.

We aim to coordinate with the families and the injured directly through the hospitals listed above to ensure that the items are distributed to those that need it the most.

2. Care for the Families that Lost Loved Ones

The merciless bombings tore families apart, leaving behind devastated parents, siblings, spouses and orphaned children.

Also, a majority of these families are from poor, humble backgrounds, and as such are left to face the dire predicaments of a bleak future ahead without their loved ones.

We plan to provide assistance in the most sustainable manner possible to ensure that it would have the greatest impact, and provide long-term support to these unfortunate affected families and individuals in their time of loss and sorry.

3. Long Term Community Rebuilding & Support

Through these well-coordinated attacks, in a matter of seconds, the lives of those in these peaceful communities were turned upside-down. We aim to work with the affected churches and community organisations at the grassroots to rebuild, and provide the requisite support where required.

WHO WE ARE

In the immediate aftermath of the horrific attacks, two childhood friends, Shalaka Wijeyaratne and Amjad Moulana, decided to team up and provide the required immediate assistance to those affected.

Shalaka Wijeyaratne

Shalaka lives in Colombo, Sri Lanka and is a professional that works for a U.S. based integrated consultancy firm that specializes in infrastructure development. He has been involved with executing philanthropic work with nonprofit organizations such as Kind Hearted Lankans and many individual/personal philanthropic deeds.

Shalaka has an earnest drive to help uplift Sri Lankans and the country as whole as he sees the potential this nation bears.

Being a Christian, the horrific attacks on Easter Sunday hit very close to home, which only enhanced and reinforced that drive to assist the needy and helpless.

Moreover, Shalaka will be coordinating the relief efforts to victims and families within Colombo and Negombo.

Amjad Moulana

Amjad lives in Colombo, Sri Lanka and runs an investment advisory and consulting firm. With his hometown being Batticaloa, one of the poorest regions of Sri Lanka, Amjad has long standing ties with the communities there and has been involved in several philanthropical initiatives for those domiciled in the area.

Amjad, being a Muslim, felt an inherent need to help in whichever way possible to provide relief and aid to those affected by these heinous attacks.

He was incidentally, a mere 50 meters away from the Zion Church bombing on Easter Sunday morning, and when he rushed to the spot, he witnessed firsthand the devastation at the church immediately after the explosion, and also the frenzied panic at the Batticaloa Hospital where the victims were rushed to thereafter.

Since the blast, he has been working extensively with the church and the community in providing assistance and aid.

Amjad will be coordinating the majority of the relief efforts to the victims and families in Batticaloa.

-----
In addition to the two of us, we hope to organise a team of volunteers in all the affected areas of the country, some of whom we are already working with, and others who are eager to join the cause.
Moreover, GoGetFunding requires for the funds to be channelled through approved payment partners in select countries. As Sri Lanka is not on that list of countries as yet (although it is eligible to receive funds), we are fortunate to have another friend, Shabana, who lives in Atlanta, USA, and will facilitate all donations.
Once your valued donations are received, Shabana will withdraw the funds and transfer it to us in Sri Lanka via approved channels.

HOW YOU CAN HELP

Given the nature of the situation, we are already providing assistance to those affected on the ground, and funds shall be utilised by analysing the needs and distribution will be on a priority basis to where it is needed the most, in keeping with the three factors denoted above.

As such, anything you can provide will be immensely appreciated, and you can be certain that it shall be a blessing to those in desperate need in these very trying, tragic times.

Thank You, God Bless and Please Pray for Sri Lanka.
Please click the style of widget you'd like to install