We are DSP: Doncaster Stage Productions
We are DONCASTER STAGE PRODUCTIONS (Formerly Doncaster Amateur Operatic Society since 1910). We are amateur actors, singers, dancers and performers who strive for excellence, study their craft and take their performance seriously. Fully affiliated with the National Operatic & Dramatic Association (NODA), we are the oldest Musical Theatre group in Doncaster having celebrated our Centenary Year (100 years) in 2010.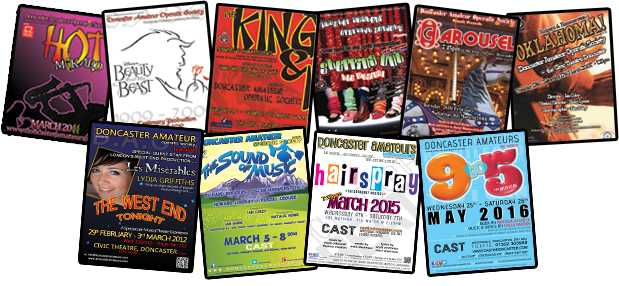 Like so many amateur theatre groups around the country, DSP has struggled with sky-rocketing costs, despite consistently producing outstanding shows. These increasing costs are the culmination of increased theatre costs, costume, scenery and musical equipment hire.
Demand for high quality amateur theatre is still high, but the cost of staging a production can reach in excess of £40.000+ for a major production. Ticket sales alone just can't cover it all, so we have to look for other ways of raising funds. This is why we need your help!


What We Need & What You Get
Putting on a show is very expensive, especially for 'amateur' Musical Theatre companies, especially when you have a great venue and want to do it without cutting corners! We estimate the show to cost £40,000+. Every element of our productions has a cost applied, from a single costume (£25+) or a radio mic (£50+) right up to the entire orchestra (£4,500), scenery hire (£4,500) or our biggest outlay is for the theatre hire (£15,000).
By helping us raise these vital funds you can alleviate these financial issues that can in many circumstances prevent local Musical Theatre becoming non-existent. By donating to our cause you will be seen as an active sponsor to one of our productions and be seen to support local arts. Every sponsorship comes with a reward, starting with a credit on our web site and in the programme right up to free tickets and advertising on our web site and in our programme. Major sponsors are also displayed on all our promotional material for every event we do throughout the year that reach thousands of homes and businesses.
Your financial support is vital and should we not reach our goal, all money's raised so far will still be used to fund the production and you, as a sponsor will still receive your reward.
The Impact
The Theatre has been creating memories for people young and old for generations. This year's production of SISTER ACT is going to be bigger and better than ever with elaborate scenery, amazing costumes and a fantastic orchestra.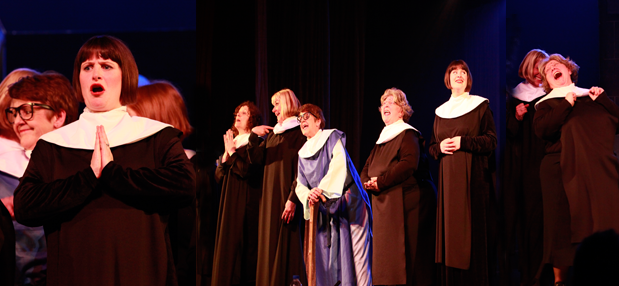 Doncaster Stage Productions provides a worthwhile service to the community. Our society allows people to become involved with musical theatre at any level and all ages. As a performer – singing, dancing and acting. We can help people develop stage skills at all levels. We can give them the opportunity to experience Musical Theatre, that which they may not have the chance to experience otherwise. Its not only on stage that experience can be gained but behind the scenes, working back stage and becoming involved with wardrobe and costumes, helping with marketing or building props and scenery. We also provide a vital service to the community by giving them the opportunity to visit the theatre and see a high quality musical production at affordable prices and within easy access.
Our productions have been a stepping stone for a few young performers on route to working and appearing in professional theatre, television and the Royal Ballet.
Being part of a theatre group is where new friendships are formed. It is fun and exciting. Putting on a show and being involved is hard work but there is nothing like the feeling of 'SHOW WEEK'. You feel an amazing sense of achievement, it gives you a buzz and you get to share precious moments with your friends. It gives you a sense of pride in yourself and everyone else.
Risks & Challenges
With our performance in February 2018 it is vital that we start the fundraising now to allow us time to reach our goals. However, we will continue to raise funds through the support of our membership. We will continually keep promoting our production through our membership, local publicity, the theatre, our web site, and social media via Facebook , Twitter and Google
Who Can Help?
Whether you are an Organisation, a Company, a fellow Musical Theatre lover or a member of the general public, we have a perk/reward suited for you. Feel free to look at the Perks/Rewards to the right and see if one suits your needs. Any help is greatly appreciated!
If viewing on a Mobile Device, click 'Support Us' below to see the perks/rewards!!!
Other Ways You Can Help
We know some of you can't make a financial contribution, but that doesn't mean you can't help:
Ask folks to get the word out and make some noise about our campaign
Share our page on Facebook, Twitter and other Social Media outlets
Please click the style of widget you'd like to install