This is Pusia. 11 years old. My dearest (and first ever) doggy. From puppy years till now.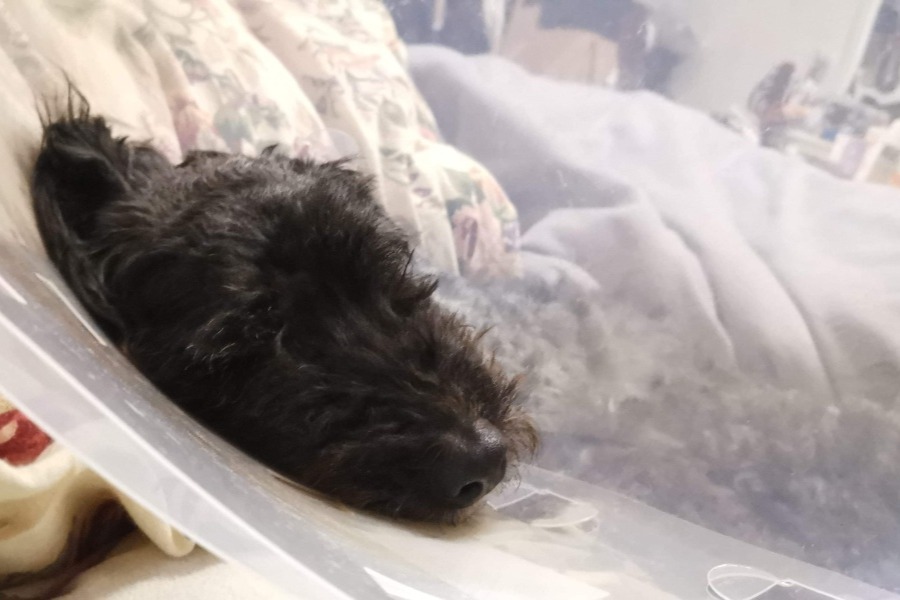 And the best companion of all the time.
Has a vigour, of which many puppies can be jealous.
The pictures show her condition after the latest operation.
Last time, not a long ago, I saw this tumour(before I know it is that kind of bump) on her left paw:


Full of anxiety, I went to a vet. Pusia undergoes an operation which ends happily for her. I decided to pay more and let the vet sent the material to a lab. Yesterday (i.e. 17th October 2019) I received the surgical pathology report. Pusia was diagnosed from malignant adenoma/adenocarcinoma.
Of course, I burst into tears..."what shall I do now?" I asked to myself. I decided to hold this collection, maybe it would work.
The report is in Polish and below I tried to translate it:

"LAB-WET
Veterinary Diagnostic Laboratory in Gdańsk
SURGICAL PATHOLOGY REPORT
Date: 15.10.2019
Order number: 458121/19
Material number: X-21
Referral by: Veterinary Clinic "Cztery Łapy", Przemyska - Gdańsk
Owner: Zdrojewska Martyna
Patient: a dog, Pusia
The test material: skin tumour in the area of left metatarsus
Description: In the test material visible epithelial cells with marked cellular atypia (polymorphism, pleomorphism, anisocytosis, anisokaryosis, noticeable nucleoli) placed in the glandular system. The number of mitoses in high power field : 8-10. The margin of healthy tissues is invisible.
Diagnosis: Undifferentiated adenocarcinoma
Commentary: Adenocarcinomas are malignant tumours origin from epithelial tissue of glandular epithelium. Due to a very low degree of differentiation of tumour parenchyma cells, it is impossible to determine the type of epithelial tissue from which it originates. It is also impossible to determine whether the cancer is a primary or metastatic tumour. For these reasons, the prediction of the course of the disease is impossible, however, taking into account low degree of differentiation of tumour parenchyma cells and high number of mitoses per high power field, the prognosis is guarded. Moreover, due to the localisation of the tumour, X-ray examination of the further part of the left limb is advisable in order to exclude the alterations in bones and X-ray examination of lungs in three projections in order to exlude the presence of metastases, and the examination of the regional lymph nodes and performance of FNA if they are enlarged.
Test undertaken by
dr Hanna Sendecka "

I am student, I have a rent to pay for sharing a flat like everyone else. I pay a lot of money, I go to work like everyone, I have big financial problems like everyone else, I study at university - again, like everyone. I don't expect nothing, really. I just depend on your warm heart, guys. Even 1€ will be a lot. I know that these kind of words are overused in every collection held but frankly, you're not tied down. Just if you WANT.
I spent so much on operation, vaccines after it, Pusia must deal with it, even if it hurts her a lot. If your dog/cat (besides I have also a cat adopted from a shelter like Pusia was) underwent an operation like her was, then you understand me. Even if not, I guess you would.
As it is described in the medical report:

-> two chest X-rays in 3 sections must be done, to eliminate the possibility of lungs metastases
-> left paw X-ray to eliminate bone metastases, to ensure that the tumours are not hiding in the bones
-> assessment of the lymph nodes and the must is to do their FNA if they're enlarged
And many others.

For God's sake, it is a huge amount of money. Again. Because of operation I've already spent about 250€.
And now I can barely afford the further medical tests.
That's why I decided to raise this collection.
Just for the chance for a good old age for Pusia.
Don't tell me about putting her down.
She still has a chance to be healthy again.
------
Greetings to everyone and love your furry family members, never be afraid to say that.

Please click the style of widget you'd like to install