Szansa na godną starość dla Pusi
zł50.00

raised of zł500.00 goal goal
Help this ongoing fundraising campaign by making a donation and spreading the word.
Campaign Story
To jest Pusia. Żywotna 11-latka. Najdroższa mojemu sercu, jest również moim pierwszym psem w życiu. Począwszy od jej szczenięcych lat.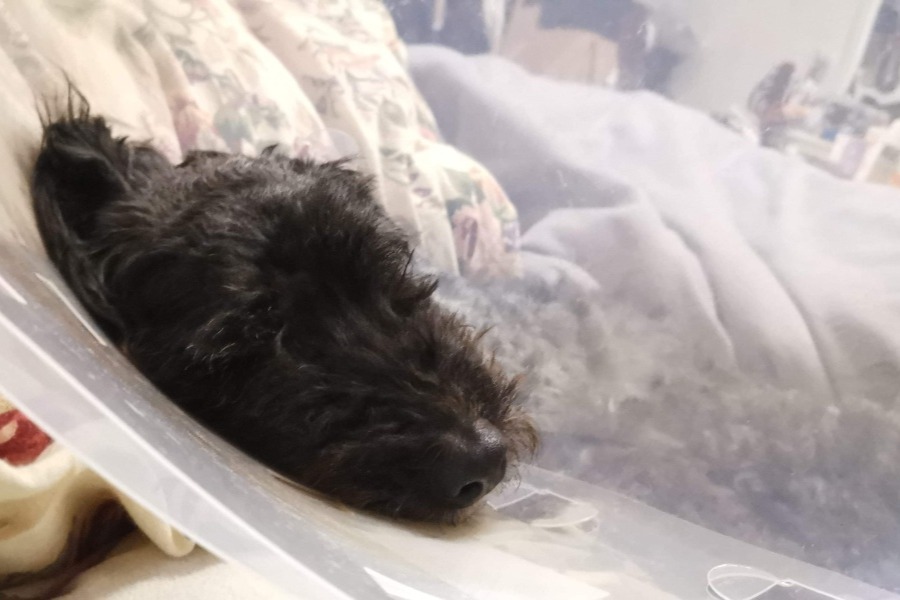 Najlepsze psie towarzystwo jakie kiedykolwiek, mogło mi się przytrafić.
Pełna wigoru, jakiego mógłby pozazdrościć niejeden szczeniak.
Zdjęcia przedstawiają stan obecny, po operacji wycięcia guza z łapy.
Jakiś czas temu, stosunkowo niedawno, zobaczyłam na jej łapie ten guz, który mnie mocno zaniepokoił. Jeszcze wtedy nie wiedząc, że to zmiana rakowa.


Pełna niepokoju, udałam się z nią do weterynarza. Pusia przeszła operację, która zakończyła się sukcesem, guz został wycięty. Zdecydowałam się zapłacić więcej, aby wysłać materiał do laboratorium w celach dokładniejszego zbadania. Wczoraj (tj. 17.10.2019) otrzymałam wyniki badania histopatologicznego. Zdiagnozowano u niej gruczolakoraka niezróżnicowanego. Oczywiście, że wybuchłam płaczem, co ja teraz zrobię? - zapytałam siebie samej. Pojawił się pomysł stworzenia zbiórki, może to pomoże.

Zdjęcia poniżej przedstawiają wyniki, dla potwierdzenia:

Jestem studentką, mam do zapłaty czynsz, jak każdy inny. Wydatki na pożywienie, na przeżycie, chodzenie do pracy - jak każdy. Duże finansowe problemy, studiowanie dzienne - znów, tak jak większość ludzi. Naprawdę niczego nie oczekuję od nikogo. Mogę się jedynie zdać na Wasze dobre serca. Nawet 1 złotówka potrafi zdziałać wiele i przybliży mnie do końca celu, jaki sobie wyznaczyłam. Wiem, że te słowa są już oklepane, czytelniku, pamiętaj, nie jesteś zmuszony do niczego - wystarczy CHCIEĆ.
Wydałam już mnóstwo pieniędzy na operację i wszelkie czynności, zastrzyki, związane z opieką pooperacyjną. Pusia musiała sobie z tym poradzić i zmierzyć się ze strachem i bólem mimo że nie chciała - lecz było to dla jej dobra. Jeśli Twój pies/kot czy jakiekolwiek zwierzątko jakie posiadasz bądź miałeś kiedyś, przechodziło coś takiego, rozumiesz co czuję i czułam wówczas. Nawet jeśli nie lubisz zwierząt, bądź nigdy coś takiego się wydarzyło - założę się, że i tak jesteś w stanie mnie zrozumieć, na zasadzie prostej empatii. Poza tym, mam na utrzymaniu mojego kochanego kotka Eliota, również adoptowanego ze schroniska jak Pusia. Razem tworzą wspaniałą relacje.
Tak jak to zostało opisane w wynikach, przede wszystkim:
-> 2x RTG klatki piersiowej w trzech przekrojach muszą zostać wykonane, w celu wykluczenia przerzutów do płuc
-> z uwagi na lokalizację guza, RTG kończyny lewej, by wykluczyć przerzuty w kościach
-> ocena i badanie szczegółowe węzłów chłonnych muszą zostać wykonane, jeśli wykazanie zostanie, że są powiększone, należy wykonać ich BAC
I wiele, wiele innych.

Jest to horendalna suma, podobna do tej, co wydawałam z racji na operację. Z mojej własnej, ciężko zarobionej kieszeni, ubyło około 1000 złotych. Teraz, z uwagi na fakt, że trzeba działać szybko, nie jestem w stanie poświęcić kolejnych wielu miesięcy i czekać aż będzie za późno zanim uzbieram drugie tyle...dlatego zdecydowałam się na tę zbiórkę.
Żeby dać Pusi szansę na godną starość, a nie umieranie w konwulsjach. Proszę nawet nie wspominać słowa "uśpienie". Ona wciąż ma szansę na to, by całkowicie wyzdrowieć.
------
Pozdrowienia dla WSZYSTKICH i kochacie swoich futrzastych członków rodziny, nie bójcie się tak ich nazywać - nigdy.

No updates for this campaign just yet