BORDERLESS AID VOLUNTEER PROJECT (BRAVO) @ BOJONEGORO, INDONESIA

BRAVO is an international humanitarian mission under the Navy ROTU and Fifth Residential College of the University of Malaya, Malaysia. Primarily focused on community service through education and sustainable infrastructural development, the second edition of the mission will be focused on improving the welfare of the people of Dusun Bhuten, Bojonegoro Indonesia, whose people are suffering from poor living conditions, and insufficient educational and hygiene facilities. Help support us to change these people's lives..
A ROAD OF HARDSHIPS...
The road to the village of Dusun Bhuten is extremely difficult to travel due to the uneven rocky hill path. The path is only accessible through scrambler motorcycles and on foot, making travel and transport of supplies to and from the city very difficult and time-consuming. The situation is exacerbated by lack of proper facilities in the village.
GIVING LIGHT TO A VILLAGE DEPRIVED...
A major challenge faced by the village community is lack of electricity and accessibility to clean water. Shown above is the village musollah and the ablution and toilet area. The musollah, like the rest of the village, has very limited electricity supply despite being an important place of worship for the Muslim village. The ablution area is also the only public source of water for the entire village, while the public toilets are unfinished and mostly unusable.
A HOPEFUL FUTURE THROUGH EDUCATION...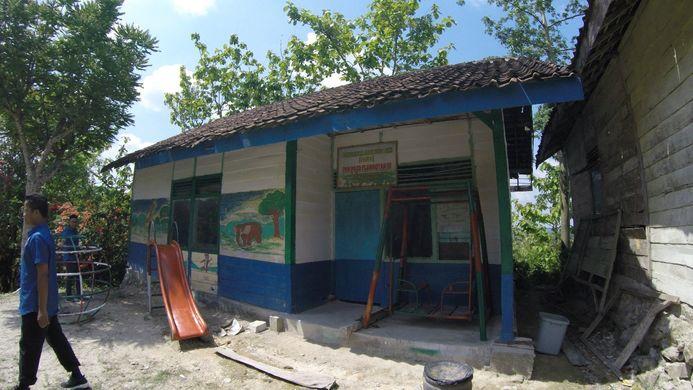 Shown above are the poor conditions of the village kindergarten, as well as the primary and secondary school. The derelict state provides an inadequate conducive learning environment for the students of the village. Through improving the state of the school, we hope to induce a positive impact towards the youth and the community of Dusun Bhuten as a whole, so that everyone is given a chance to learn and strive for a better future.
HEALTHCARE FOR ALL...
The village clinic is also in poor condition, with very limited medical professionals and facilities. The grave condition is magnified by the scarcity of clean water and access to outside assistance and medicine, further exacerbating the situation in cases of medical emergencies such as childbirth.
We hope that our efforts will help improve the living conditions and general welfare of the people of Dusun Bhuten. The projects planned are centralized on education, hygiene, and infrastructural development.
"LOVE THROUGH STRENGTH"- HELP US MAKE A DIFFERENCE, WITH NO ONE LEFT BEHIND.
AMONG THE PROJECTS PLANNED
Hygiene Care Project
Anti-Drugs and Smoking Project
Cycle Filter Project
Water Hope Care Project
DIY Gym Project
Hydrophonics Project
Floating Garden Project
Dew Catcher Project
FUNDS REQUIRED
Accommodation (6 days 5 nights) : RM2000
Project Supplies : RM3000
TOTAL FUNDS REQUIRED : RM5000
Please click the style of widget you'd like to install