Hi! My name is Andrea, I dedicate a big part of my time and heart to try to save the animals that suffer horrible situations here in Venezuela and I share the story of each one of them through the account @GentlePaws98 in twitter. Due to the deep socioeconomic crisis that plagues the country, animals are being victims of more than one type of negligence and cruelty; They are left locked in the yard, hoping to die of hunger. Others are thrown into the street regardless of whether they are injured, sick or pregnant. Dogs and cats on the street are hunted to become food for people in extreme poverty. Sadly, here animal protection laws are a dead letter, and those who wish to help must do so independently; with our own hands and income, which in this country is ridiculous (the minimum wage is $ 5 per month).
One bag of 18kg of the less good dog food brand costs more than 25$. Good quality brands, such as Pro Plan, Dogourmet and K-Nina (which are what the dogs need to be able to heal) when they are available can cost more than 30 dollars, Pro Plan costs more than 40. I know that 20 dollars is not a large number in other countries, but with the crisis that we are experiencing that is equivalent to four monthly salaries of one person, that's why I have to ask for help; often the dogs I rescue needs more than just food for surviving, they need medicines and veterinary care, which is a luxury in this country, but they desperately need it.
This is a country where prices increase day by day, and it has been that way for the last few years. When something seems like it can not get worse, it does. It is estimated that the inflation rate of 2018 could exceed 10,000% (http://preciosvenezuela.com/inflacion-venezuela-20... ).

I am currently responsible for the care of eight beautiful dogs, to which I try to help to survive:

Papi
One very gentle giant that was suffering from starvation when I met him. He was living in the yard of a house where his owner didn't care about giving him food, water or medicines, they didn't even give him love. Imagine the suffering of a living being who is forced to spend days without food or water, in a city where the sun has no mercy on anyone (El vigía, Mérida). He is a very large breed dog and its minimum weight should be 50 kilograms, and when I found him weighed less than 25 kg, he had no muscle or fat, he was only bone and skin.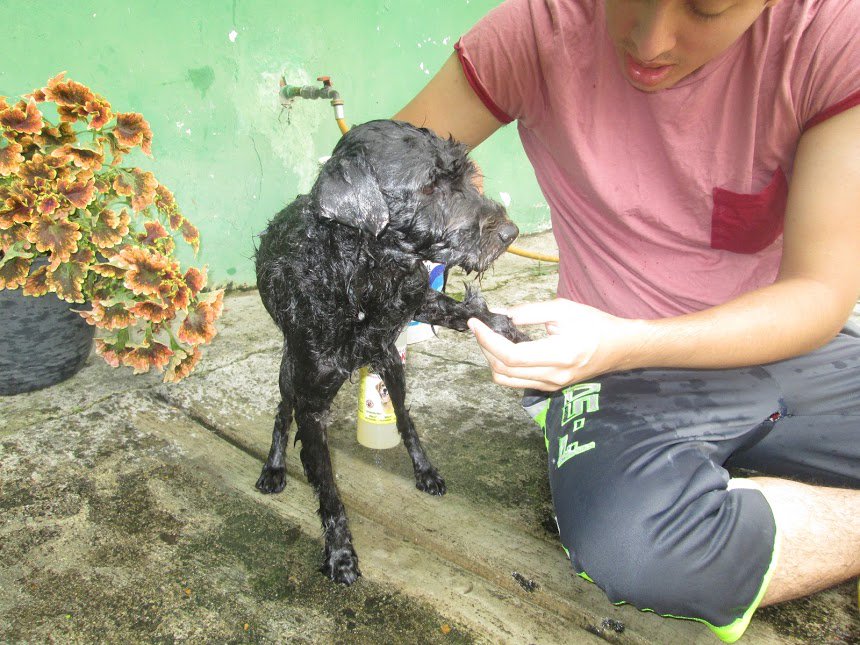 Princesa:

A small girl living in the same house as Papi, she suffered an infestation of ticks and had no fat on his body. She was completely malnourished, nobody paid attention or care, so her character hardened, even towards the same people living in the house.
Perla: She is a beautiful schnauzer that was thrown into the street in the midst of her illness; she had a deep wound infected and full of worms. After taking her to the vet, we discovered that her situation was worse than what I thought, since she has Ehrlicia, Malassezia Moderada, Giardias and high levels of Urea and Creatinina. I found a temporal home for her, and I started her treatment as soon as possible.
Chocolate: One very thin dog with a lovely brown hair color. He was living on the streets, but luckily I was able to find a permanent home for him, but I promised to help with his food since his new family is very poor.
Yinko: Yinko's situation seemed to scream for help. Seeing him broke my heart; he was so skinny, so careless and so weak that I did not understand how he was still alive. He is a dog of the Shar Pei breed, and he did not seem to be one. He lost his sight in one of his eyes.
Eragon: He is Yinko's companion, but smaller, and his starvation is so severe that he weighs only 1 kg. His skin is completely eaten by ticks, and he suffers from scabies.
Candy: She is also Yinko's partner, unfortunately recently gave birth to four puppies. She is anemic, and both she and the babies can not survive without immediate help.

Wade: Another companion of Yinko, a dog of small race that, in spite of not being as serious as the others, he is very skinny and neglected. The ticks invaded his coat.
Please, consider helping with a small donation. If you cant help with money at this time, then please share the fundraiser, every kind of help means a lot for them.
Please click the style of widget you'd like to install