Am Naluwooza Gorret from Kampala Uganda helping Poline seek for medical
Save a life; baby poline given two months to live, seeks $7500 for open heart surgery in India.

Justine Namulindwa carrying her sick child Namugabo Poline.
The clock is ticking fast for her and without urgent open surgery in the given time line, she may take her last breath, according medical documents from Uganda Heart Institute (UHI).
HEALTH


A desperate mother in Kyotera district is counting just two months for her 10-month-old baby Pauline Namugabo to live.


Her mother Justine Namulindwa, a resident of Kyango village, Nkenge parish, Kasaali sub-county, said that specialists at the institute said they could not handle her condition.


As a result, they referred her to Narayana Hrudalayala Hospital in India, making her baby's chances for survival very limited due to lack of funds.


The referral documents singed by Dr Judith Namuyonga and Dr Dorah Nampijja (paediatricians/cardiologists) call for a speedy process.


Namulindwa says, she was advised to go to Action for Disadvantaged People (ACDPE), a non-profit organisation, in Kawempe division in Kampala, for assistance.


The organisation wrote to the Narayana Hospital about the girl's condition. In their reply, they need to do the surgery by February 2021 without any extension to save the child.


A quotation was done including Namugabo's medical surgery, two air tickets (mother and daughter), Visa fees plus upkeep and accommodation all totaling to sh28,120,000 (7,500 USD).


By the fact that the single mother of five children is unable to afford the proposed amount, she has opted to solicit from good Samaritans in shopping malls/arcades, streets and community members.

"The doctors said if she goes beyond February, the heart will be too weak to function," she says.


She explains that her husband Patrick Kasumba abandoned them after learning that poline had a severe heart defect. Had he been around, she claims, soliciting funds from all possible corners would be a bit easier.


Namulindwa, however, appeals to the public and corporate organisations to support her in this limited time in order to save her daughter.


She has spent nearly Ugx500,000 ($145)on the baby's treatment and currently stuck without any savings. In her explanation, she had a small retail shop which collapsed because she used all profits for treatment.


One of the medical forms from the UHI


She also sold off her goats and chicken to raise money for treatment but all in vain. Now, she survives on petty jobs such as cleaning people's homes and working in plantations to get what to feed her children.


"If there's anyone in urgent need of support that must be my daughter. I love her, and I do not want to lose her. Please, can someone help?" she appealed.


Namulindwa recounts that the baby has a terrible cough. And when she coughs, she feels too much pain. "I always spend sleepless nights because she's crying all the time due to pain," she explains.


Letter from Narayana hospital



A medical quotation for Poline's open surgery.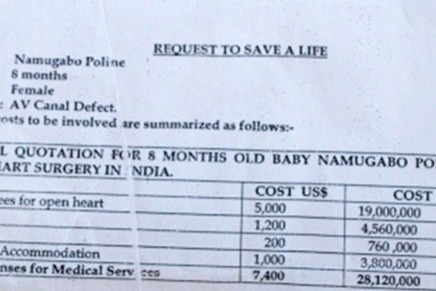 Background
Namulindwa did not realize that Poline had a a serious heart defect until when she took her St. Mugagga-Kabaseke clinic in Kyotera. They checked and referred her to Masaka Regional Referral Hospital.


After examination, doctors said she had a heart defect. So, they could not handle her case, hence referring her to the Uganda Heart Institute in Mulago, Kampala. Still, UHI referred her to India.


Appeal


Namulindwa appealed to the government to purchase enough medical equipment to treat patients with heart defects, cancer, kidney and other diseases that are too expensive for poor Ugandans.


You have always been very generous in helping people around the world through Gogetfunding and we are hopeful that you will offer the best of the help you can. THANK YOU.
Please click the style of widget you'd like to install