My sister-in-law, Lara Beltran 32 years old (she and my wife are twins), mother of 2, was rushed to the hospital last Oct 16, 2020 due to serious headache. The pain still lingers despite of the strong pain relievers given so the doctor requested for a CT scan. The results came in and turned out to be SAH (Subarchnoid hemorrhage).
Their picture last new years eve with husband Michael, Son Lance, and Daughter Mielle.
Lara and her daughter Mielle

Twin sisters Lira (in white) and Lara at the back.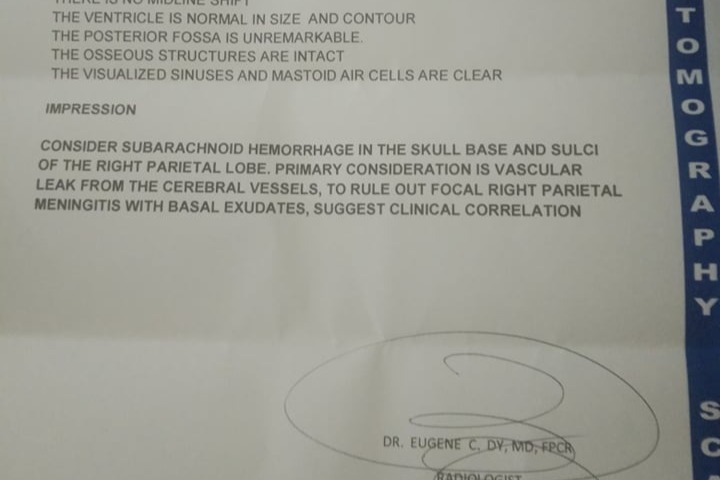 Result of CT Scan


We are asked to move her into a bigger hospital for the treatment. She needs to be transferred immediately into an ICU. We've spent 2 days looking for a hospital, all of the hospitals we've called does not have ICU vacancy due to the pandemic situation.

We've managed to reach out to a neurosurgeon who happens to be an acquaintance of a cousin's friend. We finally got an endorsement and able to transferred Lara on Oct 18 around 2 AM to a bigger hospital.
Lara during ambulance transfer.


Lara is conscious, can speak, and able to move left and right parts of her body but still complains about the very intense headache. A CT Angiogram has been conducted and revealed the case was indeed a ruptured aneurysm and she needs to have an open skull surgery.

We are humbly asking for financial support to cover the hospital and operation expenses. The ICU is estimated to cost around P50,000 ++ ($1,000) a day. The operation is estimated to be atP350,000 minimum ($7,000).


Thank you and GodBless to you and your family!
Please click the style of widget you'd like to install