Allen and Jesa for Taal Volcano victims
US$285.00

raised of $1,000.00 goal goal
The campaign owner has stopped the page from accepting further donations. Please contact them if you'd still like to donate
Help this ongoing fundraising campaign by making a donation and spreading the word.
(Main cover photo - credits to The New York Times)

"Taal, the Philippines' second-most-active volcano, surprised even volcanologists when it suddenly erupted on Sunday (January 12). Within hours, the volcano on an island in the middle of a lake shot a plume of ash a mile high and triggered multiple earthquakes." (The New York times).
(photo not mine, credit to the owner)


People from Taal and nearby towns, therefore, were forced to evacuate immediately - bringing only whatever they can. Taal volcano is now in Alert Level 4 (highest is Level 5).

(Credit to Pewee Bacuno of GMA News)


"Taal's activity may last from days to several months, based on its eruption history." (CNN Philippines)

Looking at the situation, I can only imagine how hard it is for people to stay in evacuation centers with barely anything, while waiting for the situation to subside until they are allowed to return to their homes (well some of them can't return anymore). There is no certainty at the current situation, but these evacuees need to eat and drink, along with the basic needs (toiletries, hygiene, blankets to sleep, clothes, etc.).

So me and my wife initially managed to pull off some of our personal money to donate foods (biscuits, fruits, cup noodles, canned goods, etc.), toiletries and hygiene needs (tissues, toothpaste, soap, toothbrush, etc.) and gallons of water (8 litres each).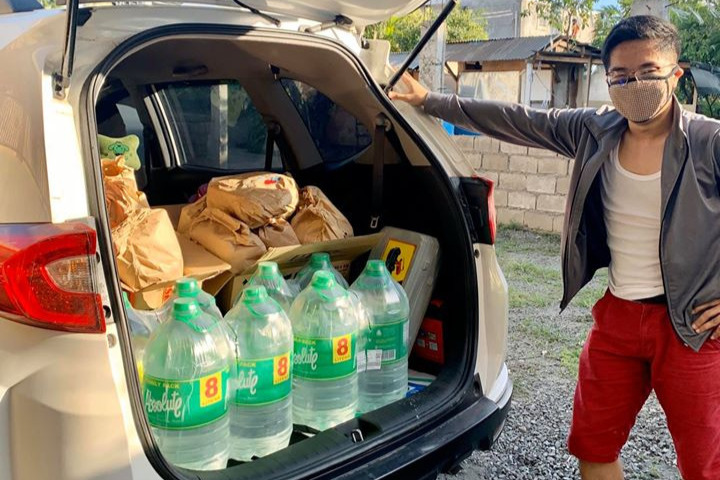 Fortunately, we are just few towns away from the Sto. Tomas, Batangas - this where some of the evacuation centers are.
We drove to Barangay San Miguel and brought these reliefs to Dona Tiburcia Elementary school.
It was inspiring to do good if you've been there because you would see how people from various places came to donate whatever they can - regardless of their social status.

Me and my wife were both running late to our respective works so we were not able to take pictures inside the evac center.
Right now, what I hear mostly from fellow friends who also help with the situation is that people are in need of blankets, clothes and more toiletries, so I posted an offer to help do door-to-door delivery of these things to bring ease to donation logistics. As of this writing, I've got 3 folks who pledged to offer clothes and blankets.

One generous man "Rhon" from our car club donated 2,000 pesos (40 USD) - as of this posting (January 16), we will be using this money to focus our buy in toiletries and we'll be heading to Tanauan evac centers.
We will do our best to document progress so we can get back to our donors with updates on our milestones afterwards. Rest assured your money will be well spent. More power and God bless!

January 21: Farmers from Pulong Bunga, Silang, Cavite
Update posted by Allen Linatoc at 09:10 pm
First off, we would like to thank our donors who contributed to this donation drive. If not for them, we could have not reached this far.Recently, we've heard some evacuation centers in Batangas are experiencing over-supply. We believe this is due to poor profiling being done by government. Datan and. . . . .
January 17: VIDEO: Tanauan site donations update
Update posted by Allen Linatoc at 08:07 am
A day after we prepared the relief goods for recipients in Pantay Matanda, Tanauan, Batangas, we headed to Pantay Matanda Elementary School.Here's a video documentary we created:
January 16: More donations for Tanauan evac site tomorrow
Update posted by Allen Linatoc at 05:09 pm
Thankfully, yesterday, we managed to earn Php 2,000.00 (US$ 40.00) from BRV Philippines Owners Club, and additional $30 from Gregory McTague.Last time we focused on foods and water. But we've seen some evac sites in Tanauan, Batangas being short on toiletries and water, so this time we focused buying these