Our mission is to make the ultimate travel playing cards. After the success of our first Air Deck campaign, we've been busy figuring out how we could improve on our original Air Deck. After 18 months of work, and great feedback, here are our five new designs: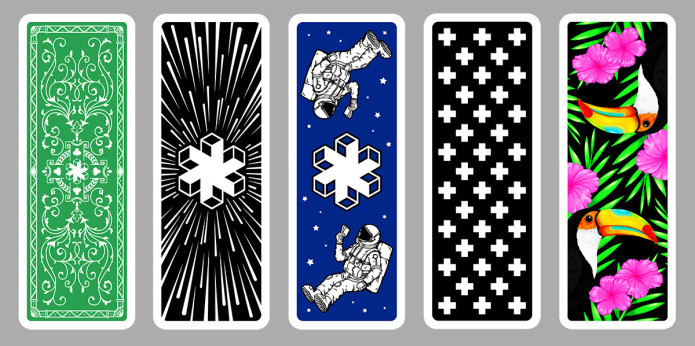 Our five new designs: Classic, Warp Speed, Astronauts, Plus Plus and Tropicana
Key Features:
52 Playing Cards + 2 jokers
Waterproof and washable
Compact travel friendly size
Light weight
Durable heavy-duty 'casino quality' 0.31mm PVC
Premium printing
Slightly textured on both sides for better handling
Sturdy 0.4mm waterproof synthetic paper tuck box
Playing card size : 3.43 x 1.26 inches (87 x 32mm)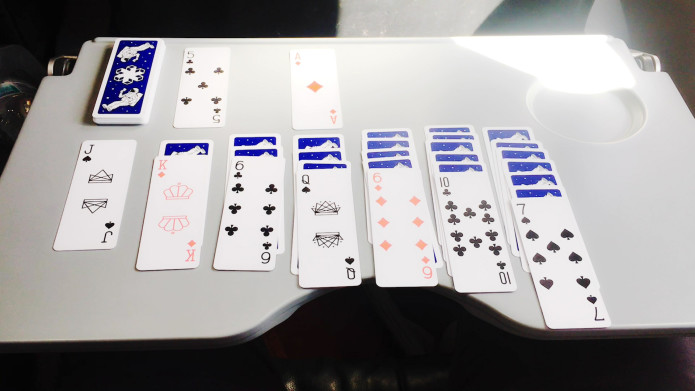 Air Deck 2.0 easily fits on small surfaces, such as a plane tray table
What's New?
Air Deck 2.0 is made with the same high-quality materials as the original, but we've made a couple of upgrades (apart from the new look):
Our new decks are designed so they're even more resilient to wear and tear.
The boxes (including our current 1st generation Air Decks) are upgraded to .4mm waterproof synthetic paper, which makes them more durable than the .3mm we shipped with the original campaign.
The ink on the box is now more resistant to scratching.
We'll be planting mangrove trees to offset any CO2 emitted from production and shipping of the cards.
By Travelers for Travelers
The idea for the original Air Deck was conceived by fellow globetrotters Ursus Negenborn and Rune Kippervik while traveling South East Asia. We love playing cards, and we just couldn't find a deck that was perfect for carrying at all times. As we're big fans of optimization, we decided to create the ultimate playing cards for travelers ourselves.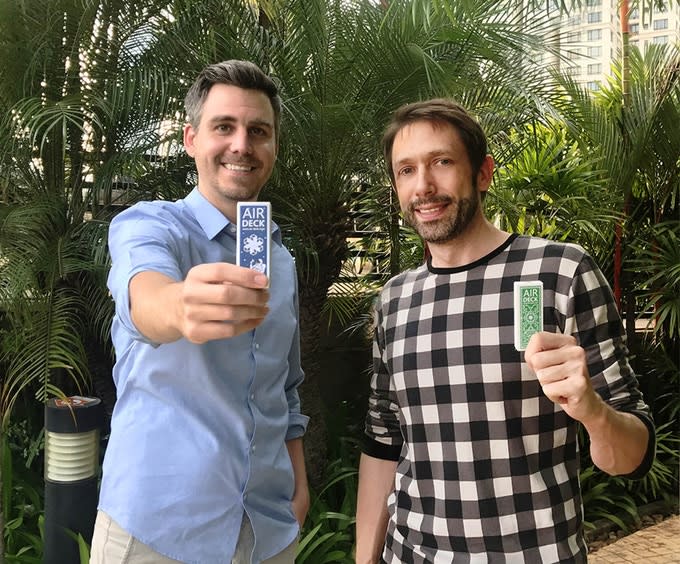 The Air Deck founders
Quality
With the Air Deck 2.0 we did not want to compromise on quality. We went to several of the world's best manufacturers of premium casino cards and asked for the best materials they could provide. In the process of creating the ultimate travel deck, we tried out over 50 different high-end plastic materials. The materials were taken through scratch, bending and handling tests to identify the best candidate. Finally, we ended up with a premium 'casino quality' PVC that has all the properties we want for our deck.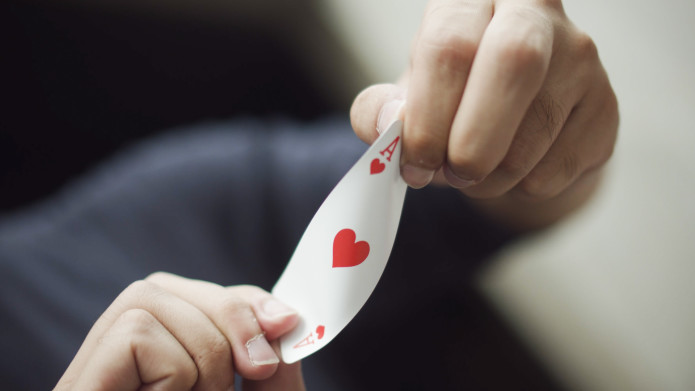 While paper playing cards tear, stain, bend and break easily, Air Deck 2.0 is extremely durable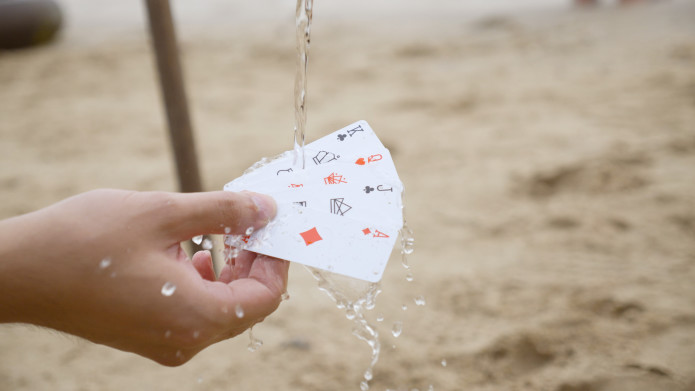 The cards are 100% waterproof, so you can even use them in the pool or the bathtub
Handling
In the process of selecting the material we sought advice from several playing card professionals, to help us find the optimal material and design. The end result is a deck that shuffles and handles like you expect professional cards to do. The cards are slightly textured on on both sides to provide excellent handling.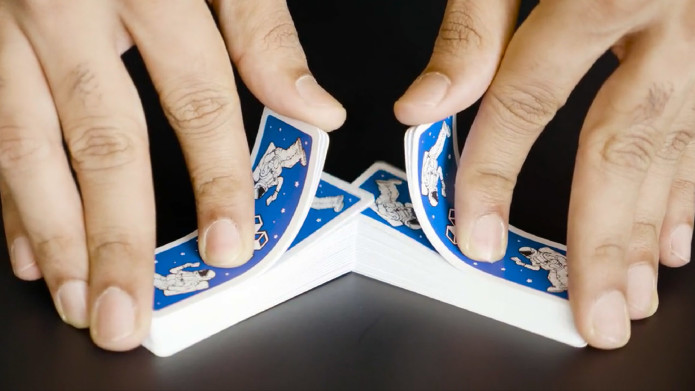 The Air Deck 2.0 handles well and shuffles easily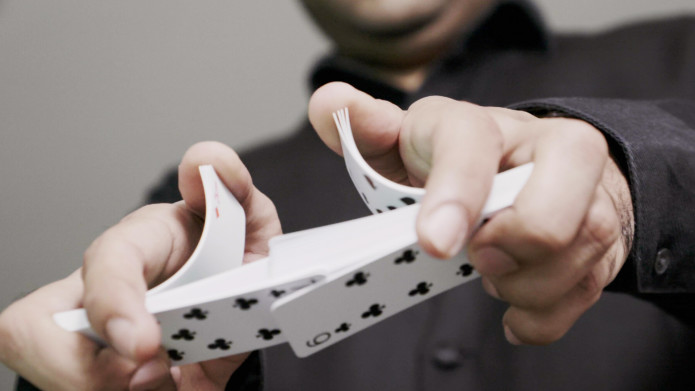 Design
We created the new designs for Air Deck 2.0 with the wonderful feedback we've received from our community.
Warp speed, Astronauts, Plus Plus and Tropicana playing cards come with the same minimalist fronts as the original white decks. For our new classic design, we've given the jack, queen, king and the joker a more traditional look.
Despite their smaller width, the cards are as easy to read as a standard sized decks. The full-sized length ensures that it also handles much like a full size deck, and the narrower width makes the deck fit nicely in the palm of your hands.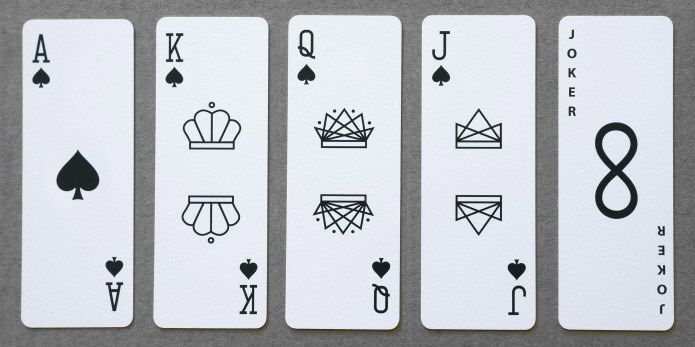 Warp Speed, Astronauts, Plus Plus and Tropicana Playing Cards have a minimalist look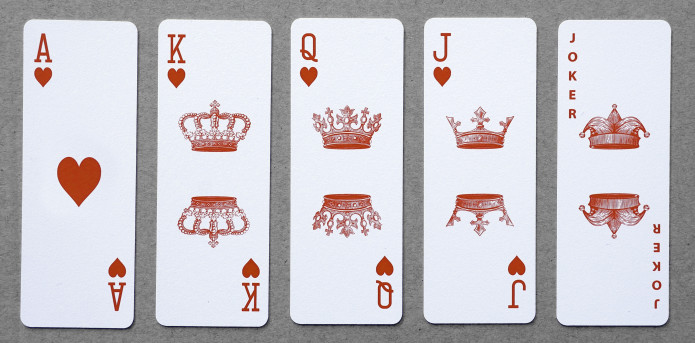 Our Classic design has traditional looking face cards
A Carbon Positive Deck
We love traveling this beautiful blue ball we call home, and we believe we should care for it as best we can. There's only one earth after all. The Air Deck 2.0 is an environmentally conscious product to begin with, as it contains almost half the materials of its competitors. In addition, we'll also offset any CO2 that's emitted from the production and shipping of the project, by planting mangrove trees in Myanmar with Worldview International Foundation. Mangrove trees are pretty awesome, as they're one of the most effective tools to bind CO2 to the soil and prevent it from escaping into the atmosphere. They're ten times more effective than most other tree species, and as a bonus, they also help sustain coastal ecosystems, protect the shorelines from damage by storms and acts as a filter to maintain water quality. The more decks that gets pledged, the more trees will be planted.
Risk and Challenges
The designs of the cards have been finalized, and we've made the prototypes you see in the video. Since this is our second project, we've ironed out the kinks, and we feel confident that we can deliver a great product. Logistics has already been worked thoroughly out, and we will ship tracked to all customers, to ensure a reliable delivery. Our factory is standing by, and will start production as soon as we are funded. As with any project, unforeseen events can occur, but we've done everything we can to keep unknown factors to a minimum. As we are continuously improving our products, there could be minor adjustments to the decks seen in the video.
Please click the style of widget you'd like to install