(Español abajo)
Hello,
My name is Daniela Roldán Cabrera and I am a Colombian student who has just completed 2 years at UWC Dilijan in Armenia to obtain my IB diploma. (International Baccalaureate). The mission of this institution is to "make education a force to unite people, nations and cultures for peace and a sustainable future." My love for learning, knowing other cultures and points of view and working for an equitable planet for everyone was what led me to apply to this program.
After having completed these two years, I know that it was the best decision I could have made and a unique opportunity for which I will always be grateful. When traveling to the other side of the world, I met and learned about completely different cultures from those I knew, since I was surrounded by people from 80 different countries with whom I shared unforgettable moments and built everlasting friendships. Furthermore, I was part of conversations and talks on issues of immigration, women's rights, colonization, and others that had multiple points of view. I also got to know other countries like Georgia, Germany, and Lebanon. All of these experiences outside of the classroom complemented the academic education I received and contributed to my own personal growth as they opened a whole new world for me.
It was at UWC, studying Economics, that I discovered my passion for this social science and why I decided to choose it as my major for university. Due to my international experience I would also be delighted to complement it with a minor in international relations or politics because I aspire to better be able to improve people's lives and the environment through these areas. This interest started from school, where I was the founder of a school newspaper that opened the space for students to use their voices to speak about their own passions, or events of interest. I also began to find my own voice and discovered how much I wanted to be involved and help causes committed to the environment and human rights. Now I believe that with my international education I am much better able to do just that, and I am ready to continue my learning at a university level.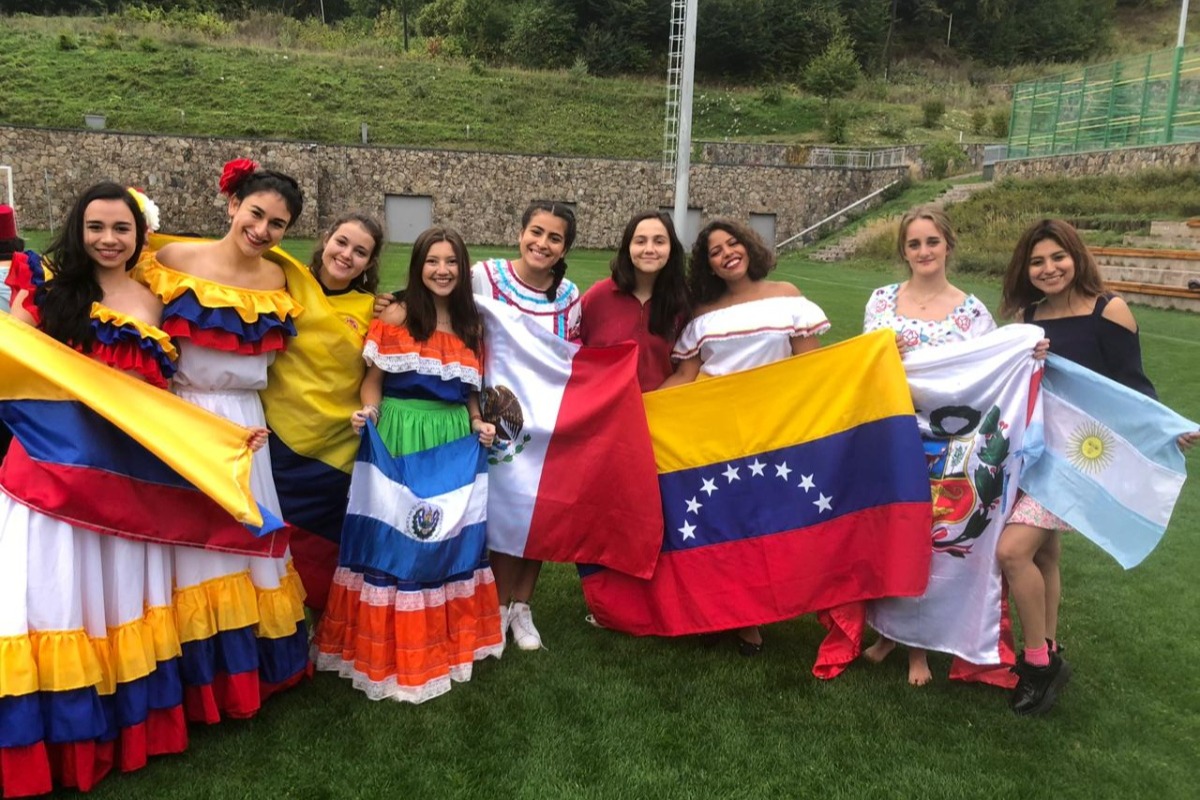 After an arduous application process to multiple American universities, I was accepted to Middlebury College in Vermont, United States. I was fortunate to receive both an academic and need-based scholarship and I am very excited to resume my studies in September.
The problem is that I have not been able to fully pay the balance due at my school in Dilijan. This is due to the disproportionate change in the dollar rate and the disease that my father has suffered for a year (Cervical Dystonia) and for which he has been unemployed. For these reasons, last year we started a petition to the school to increase my scholarship. No response was received until this week informing us that we would only have until the 1st of August to pay the remaining balance.
For this reason, I am using this platform and resorting to the generosity and support of those who read this message. Any contribution they you can make would be of immense help to be able to pay the remainder of my debt in time.
For all your help, be it by donating or sharing this message, I will always be grateful, and I will keep you updated on anything that happens with this process.
Thank you very much for any effort you can make.
I wish you good health and prosperity.
Sincerely,
Daniela Roldán Cabrera.
UWC Dilijan 2020
Middlebury College 2024
...
Hola,
Me llamo Daniela Roldán Cabrera y soy una estudiante colombiana que acaba de cursar 2 años en el Colegio del Mundo Unido en Dilijan, República de Armenia para obtener mi diploma del IB (Bachillerato Internacional). La misión de está institución es la de "hacer de la educación una fuerza para unir a las personas, las naciones y las culturas por la paz y un futuro sostenible". Mi amor por el aprendizaje, el conocer otras culturas y puntos de vista y trabajar por un planeta equitativo para todos fue los que me llevó a aplicar a este programa.
Tras haber cursado estos dos años sé que fue la mejor decisión que pude tomar y una oportunidad única por la que estaré siempre agradecida. Al viajar al otro lado del mundo, conocí y aprendí sobre culturas completamente diferente a las que conocía, pues estaba rodeada de personas de 80 países con los que compartí momentos inolvidables y construí amistades con las que contaré para toda la vida. Además, fui parte de conversaciones y charlas sobre temas de inmigración, derechos de la mujer, colonización y otros que contaban con múltiples puntos de vista. También logré conocer otros países como Georgia, Alemania y Líbano. Todas estas experiencias fuera del salón de clase complementaron la educación académica que recibí y fueron en pro de mi crecimiento personal y abrieron un nuevo mundo para mí.
Fue en UWC, al estudiar Economía, que descubrí mi pasión por esta ciencia social y por lo que he decidido escogerla como mi principal carrera universitaria. Debido a mi experiencia internacional también estaría encantada de complementar esa carrera con algo de relaciones o política internacional pues aspiro a poder mejorar la vida de las personas y el ambiente a través de estas áreas. Este interés comenzó desde el colegio, donde fui fundadora de un periódico escolar que abría el espacio a los estudiantes para usar su voz para hablar sobre sus propias pasiones, o eventos de interés. Yo también empecé a encontrar mi propia voz y descubrí lo mucho que deseaba estar involucrada y ayudar a causas comprometidas con el ambiente y los derechos humanos. Ahora creo que con mi educación internacional estoy mucho más capacitada para hacer eso y estoy lista para continuar mi formación a nivel universitario.
Después de un arduo proceso de aplicación a universidades estadounidenses, fui aceptada a la Universidad de Middlebury en Vermont, Estados Unidos. Tuve la fortuna de recibir una beca tanto académica como por necesidad financiera del 100% y estoy muy emocionada por retomar mis estudios en septiembre.
El problema está en que no he logrado pagar completamente el saldo que se debe en mi colegio en Dilijan. Esto se debe al desproporcionado aumento en la tasa del dólar y la enfermedad de la que mi padre padece desde hace un año (Distonía Cervical) y por la cual se ha visto desempleado. Por esta razón, el año pasado iniciamos una petición al colegio para incrementar mi beca. No recibida respuesta alguna hasta esta semana en la que se nos informó que tan sólo disponíamos de un plazo de 2 meses para pagar el monto que se debe (hasta el primero de Agosto).
Por este motivo estoy haciendo uso de esta plataforma y recurro a la generosidad y el apoyo de los que lean este mensaje. Cualquier contribución que puedan hacer sería de ayuda inmensa para poder pagar lo que queda de mi deuda.
Por toda su ayuda, ya sea donando o compartiendo este mensaje, estaré siempre agradecida y los mantendré al tanto de lo que suceda con este proceso.
Muchísimas gracias por cualquier esfuerzo.
Les deseo mucha salud y prosperidad.
Sinceramente,
Daniela Roldán Cabrera.
UWC Dilijan 2020
Middlebury College 2024
Please click the style of widget you'd like to install