An Artist in Desperate Need of a Studio Space
Greetings and thank you for stopping by! My name is Eliza and I'm an artist on a mission to add more colour to everyday life. Painting is "the thing" for me and I'm doing everything I can do paint as much as possible, as often as possible. However, at the moment it's not easy because I don't have a studio space where I can set up my world of paints and brushed, and paint without being in anybody's way. You can help me build a studio and create more colourful paintings, more often!
Conquering Greyness with Paints and Brushes
A bit about me. I'm a classically trained musician and music teacher, a writer, and a part-time artist trying to become a full-time artist (or at least a three-quarters-time artist). I grew up in a big city, enjoyed city life for almost 30 years, then thought better of it and escaped to a tiny village in Southeastern Serbia. Sounds pretty drastic, doesn't it? I'm enjoying my new life with my husband, my toddler son Simon and my teenage stepson Mark.
A couple of years before my move I started painting in earnest and explored a variety of styles before settling for abstract expressionism. I paint in acrylics and use strong colours. I guess growing up in a country with a nasty climate taught me to view life in a more colourful way than it really is. After all, there is nothing worse than greyness, both outside and inside us.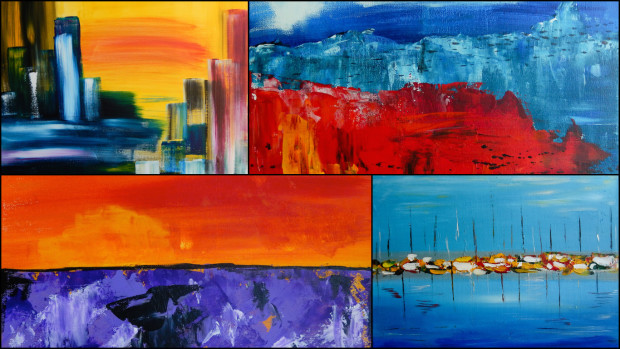 You can have a look at my paintings here.
How and Where I Paint Now
Right now setting up my painting stuff and painting is a challenge because the only place where I can paint is the bedroom. The room is a good size for a bedroom, but not so great for a bedroom + nursery + studio. Here's what my setting up process is like:
Take my easel and a bag with paints and brushes out of the wardrobe.
Bring in a garden table (if the electric heater is in use) or put paints and brushes on the electric heater (if it's not in use).
Set up the easel and bring in a chair.
Make sure my toddler son doesn't run in and make a complete mess.
Not ideal. But the worst bit is that I have to pack everything up when I'm finished with a painting or move things around the house if I have an unfinished painting because otherwise there is no room at all. Here's what it looks like: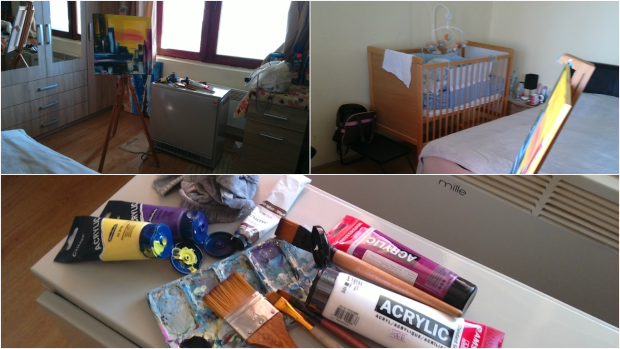 Where I Could Paint with Your Help
Luckily, our house has a large attic that has enough room for a gorgeous studio. Not so luckily, it needs lots of work done before it's livable (or should I say 'paintingable'?). You could help me renovate the attic and turn it into a studio where I could dedicate myself to painting, paint more often, never rush to finish a painting, and enjoy that precious bit of creative mess every artist enjoys.
The Project
To give you an idea of the magnitude of work that attic needs, have a look at these photos: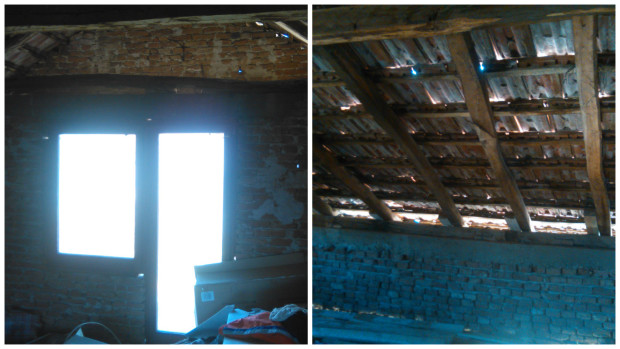 The good bit is that there is a roof and a concrete floor. Plus there a wonderful balcony with a view of a mountain. And I'm afraid that's it - no staircase, no nothing. The attic needs:
Electricity
Insulation to protect from cold winters and hot summers
Floorboards
Walls (we'll go for Knauf systems)
A staircase
Other little bits and pieces like a door, etc.
All that should cost no more than $3000 because we'll be doing to work ourselves.
What You Get
To show you how I appreciate your help, I'll prepare some unique rewards. Since I'm an artist, the rewards are paintings. I also have a website where I'll mention everyone who helped me, unless you want to stay anonymous.
Other Ways You Can Help
If you like my art, you can help me a lot by sharing my website and this campaign with your friends and family, as well as on social media. The more buzz there is, the more chances of success. Thank you all in advance and I love you all!
Please click the style of widget you'd like to install